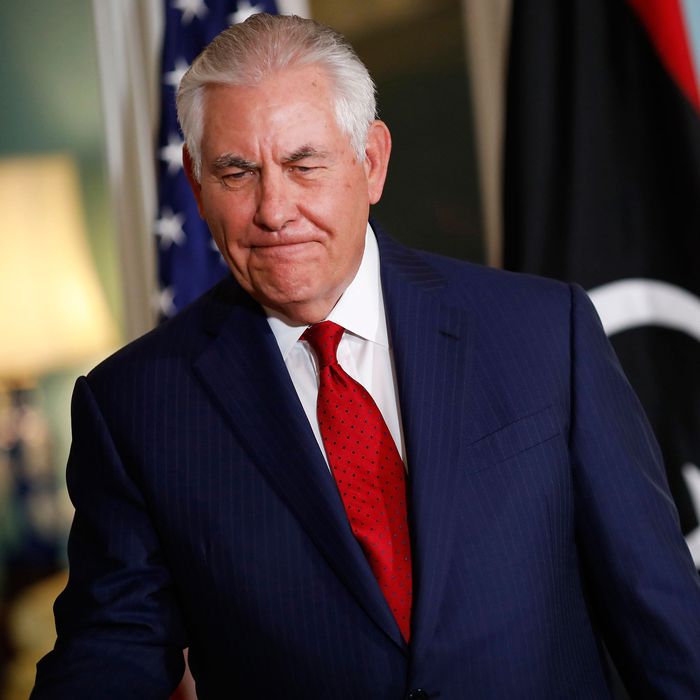 The Tillerson perma-scowl.
Photo: Aaron P. Bernstein/Bloomberg via Getty Images
President Trump denied in a tweet on Friday that Rex Tillerson, his permanently embattled secretary of State, is on the chopping block.
The message came on the heels of an apparently amicable lunch with Tillerson and Defense Secretary James Mattis, amid rampant speculation that the former ExxonMobil executive would be forced out of the administration.
Trump has publicly toyed with Tillerson's fate over the last few days, to somewhat mysterious ends. On Thursday, the New York Times reported that the Trump administration planned to replace Tillerson with Mike Pompeo at the State Department, then shift Senator Tom Cotton to the top spot at the CIA. Later that day, Trump offered an unenthusiastic "he's here" when asked about if he still wanted Tillerson in his Cabinet. Tillerson today called the rumors of his ouster "laughable," but his sangfroid contradicted reports that forecast an imminent political funeral.
It's no secret that Tillerson is not Trump's favorite Cabinet member. His relatively moderate views on issues like the Iran deal and the Paris climate accords have long put him at odds with his hard-line boss, and the two have little personal rapport. Tillerson distanced himself from Trump over the white-nationalist violence in Charlottesville. Then there was the time he called Trump a "fucking moron" and the president responded by bragging that he had a higher IQ, in the tradition of Washington and Lincoln. But why Trump continues to embarrass Tillerson, rather than just put him out of his misery, is puzzling; perhaps the simplest explanation is that, for all his bluster, Trump truly hates firing people.
Despite his West Wing unpopularity, Tillerson has been perniciously effective in fulfilling Steve Bannon's infamous "deconstruction of the administrative state." His zeal for has cost-cutting and centralized power has inspired a mass exodus of bureaucrats from the agency, and a hollowing out of the country's diplomatic corps at a time when it can scarcely afford it. One dispatch after another has described a demoralized work force yearning to feel useful again.
Staffers are so dismayed, Politico reported on Thursday, that an inexperienced hard-right hawk like Mike Pompeo, whose diplomacy style would likely consist mostly of brute force, would be welcomed with open arms. But they may have to wait until Tillerson's ritual humiliation reaches truly unsustainable levels to get the chance. Apparently, we aren't quite there yet.