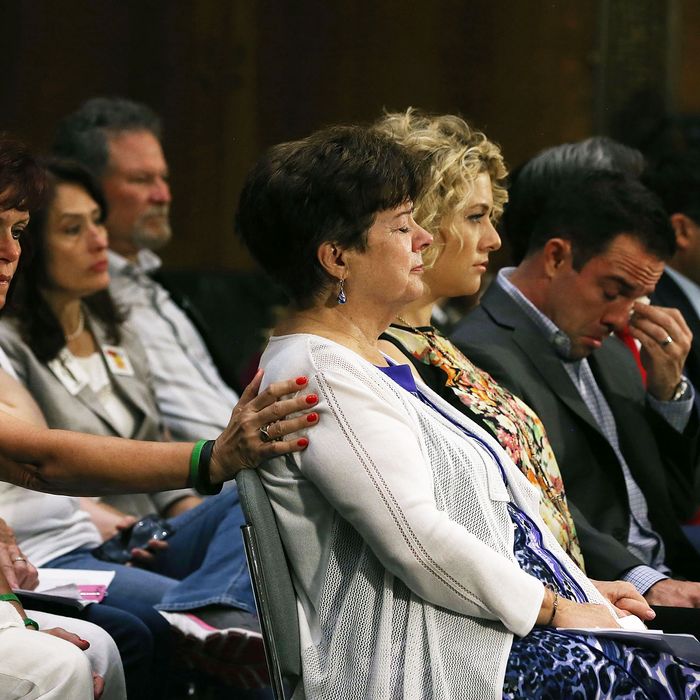 Liz Sullivan, mother of Kate Steinle.
Photo: Mark Wilson/Getty Images
A jury in San Francisco on Thursday acquitted Jose Zarate, an undocumented immigrant who had been deported five times, in the killing of 32-year-old Kate Steinle, whose 2015 death has been repeatedly invoked by President Trump as justification for cracking down on immigration.
After six days of deliberation, the jury found Zarate not guilty of murder, involuntary manslaughter, and assault with a deadly weapon, suggesting that the defense successfully argued that the bullet, which ricocheted off the concrete before striking Steinle, was not intentionally fired. Zarate was convicted on one count of being a felon in possession of a firearm, which could carry a sentence up to three years. Federal immigration officials say he will now be deported for a sixth time.
Trump weighed in on the verdict Thursday night, calling it "disgraceful."
On Friday, he returned to the subject, boosting his call to build a wall on the border with Mexico and attacking Democrats.
Trump's tweets contain at least one indisputable inaccuracy. Zarate was not a violent criminal. His prior convictions were for drug crimes, a fact that the defense used to plant reasonable doubt that Zarate meant to kill Steinle in the minds of jurors. Zarate's attorneys argued that the shooting was an accident that happened after he found the gun wrapped in a T-shirt. They said the .40-caliber Sig Sauer pistol went off accidentally, something it has a tendency to do, they argued. Zarate then threw the gun into the San Francisco Bay not to hide his crime, but because he was afraid of the noise.
Prior to the shooting, Zarate was released by the San Francisco County Jail despite a request by federal authorities to hold him for deportation. The city's status as a sanctuary city, which bars local cooperation with federal immigration authorities, was cited for his release.
That, along with Zarate's five prior deportations and reentries into the U.S., made the case stand out to Trump. As Steinle's mother pointed out to the San Francisco Chronicle, her daughter's appearance — Trump has repeatedly referred to her as "beautiful" — further drew Trump's interest.
"For Donald Trump, we were just what he needed — beautiful girl, San Francisco, illegal immigrant, arrested a million times, a violent crime and yadda, yadda, yadda," Liz Sullivan, Steinle's mother, said in 2015. "We were the perfect storm for that man."