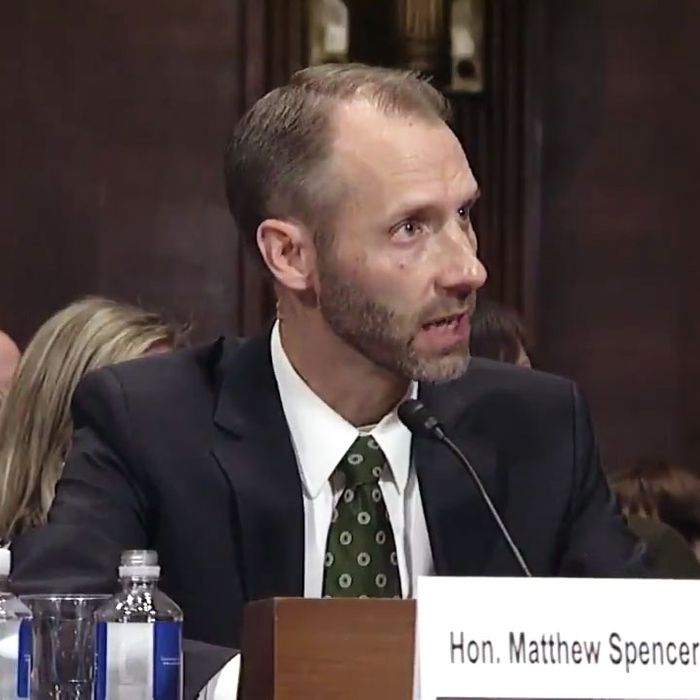 During the fateful hearing.
Photo: Twitter/Sheldon Whitehouse
Matthew Petersen, whose painful performance under Senate questioning made him the wrong kind of viral video star last week, announced on Monday that he was withdrawing his nomination to be a U.S. District Court judge.
"While I am honored to have been nominated for this position, it has become clear to me over the past few days that my nomination has become a distraction — and that is not fair to you or your Administration," he wrote in a letter.
During his flop-sweaty turn, Republican senator John Kennedy asked Peterson if he had ever tried a civil, bench, criminal, state, or federal trial. The answer to all was "no."
Worse, Petersen could not define basic legal terms like a "motion in limine" and the "Daubert standard."
In his note, Petersen also wrote, "I had hoped my nearly two decades of public service might carry more weight than my two worse minutes on television. However, I am no stranger to political realities."
It's true that Petersen, a commissioner on the Federal Election Commission, is an accomplished bureaucurat. But his lack of qualifications for the post he hoped to fill highlighted the Trump administration's persistent habit of ignoring expertise in its judicial nominations. Kennedy has been one of the few Republican critics on this score.
In the case of Petersen, the president apparently agreed with him. Kennedy told a Louisiana TV station that Trump called him on Saturday, the day after the clip of Petersen was tweeted by Democratic senator Sheldon Whitehouse before ricocheting around the internet.
"He has told me, 'Kennedy, when some of my guys send someone who is not qualified, you do your job,'" Kennedy told WWL-TV.
Because if anyone knows about qualifications, it's President Trump.