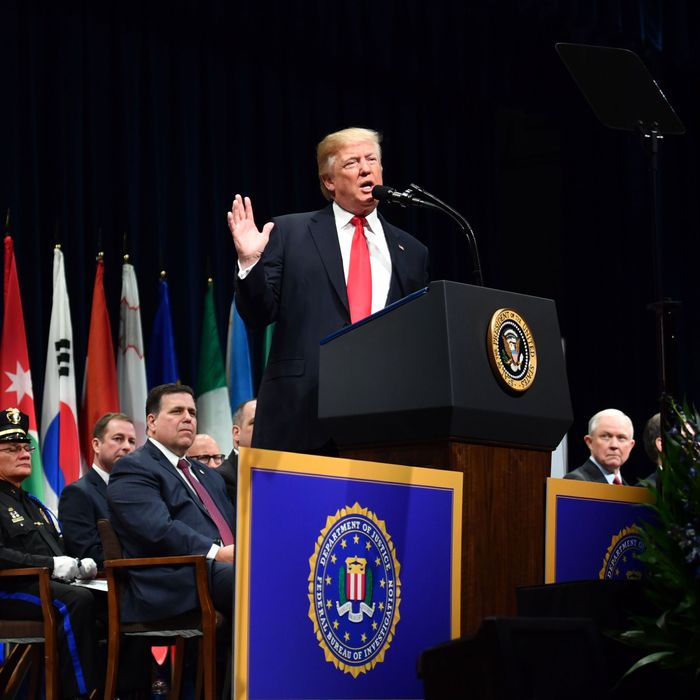 Trump speaks at the FBI National Academy graduation ceremony.
Photo: Nicholas Kamm/AFP/Getty Images
President Trump may have a complicated relationship with the FBI, but at Friday's FBI National Academy graduation in Quantico his speech praising law enforcement and criticizing immigration was greeted with cheers and laughs from a friendly crowd.
Trump addressed a class of local law-enforcement graduating from a program for officers around the country, not new FBI agents, which might explain the warm reception. Earlier this month, Trump tweeted that the FBI's reputation is that worst it's ever been and urged director Christopher Wray to "clean house."
Trump used the beginning of the speech to praise-law enforcement officials, to whom he claimed to be "more loyal than anyone else can be." He quickly pivoted to one of his favorite topics — violent crime in Chicago, a city where racist police practices have drawn rebukes from the Justice Department.
"What the hell is going on in Chicago," he said as some in the crowd laughed. "What the hell is happening there?"
Trump went on to say that anyone who kills a police officer should be put to death. It's an idea he often returns to, and in December of 2015, he promised "one of the first things I'd do" is mandate the death penalty for "anybody killing a police officer." He hasn't kept that promise, of course, in part because doing so would be unconstitutional.
Trump then turned to immigration and showed that, nearly a year into his presidency, he still doesn't understand how the immigration lottery system works. Trump suggested, as he has before, that foreign countries control who gets into the U.S. through the lottery system and that they are intentionally shipping over their "worst people."
Trump got pretty much everything wrong about the immigration lottery. Applicants must have skills or education to come to the U.S. and they undergo background checks before being admitted. If lottery winners raise red flags, the U.S. can deny them entry to the country.
He then turned to MS-13, a gang that doesn't pose anywhere near the threat to Americans that Trump seems to think.
And no Trump speech would be complete without ripping on the media.