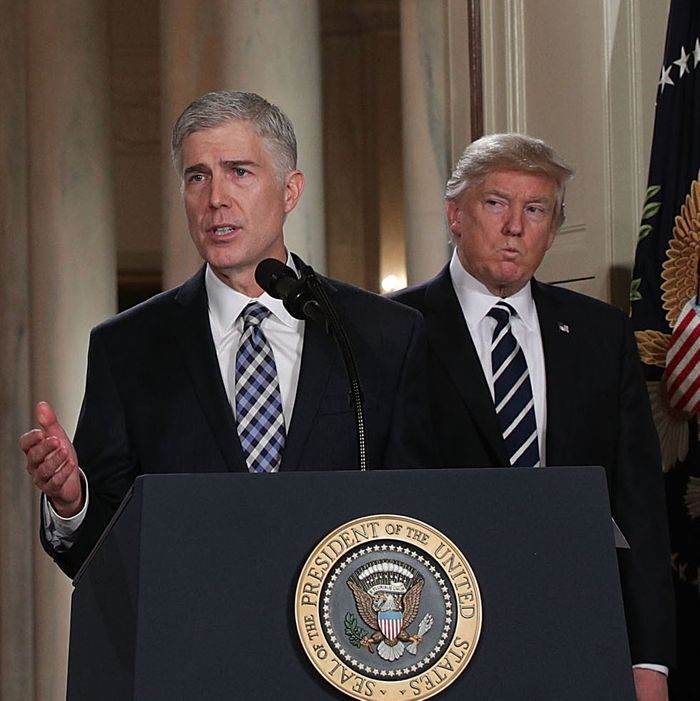 Neil Gorsuch and Donald Trump.
Photo: Alex Wong/Getty Images
The media loves to highlight all the outrageous things President Trump does, but they focus so little on the crazy things he didn't do.
For instance, no one gave Trump credit for opting not to withdraw his Supreme Court pick's nomination after the judge mildly criticized his attacks on the judiciary. Had Trump followed his impulses, that easily could have become one of the wildest and most self-defeating moments of his young administration.
On Monday night the Washington Post shed light on Trump's incredible self-restraint, revealing that he talked about rescinding Neil Gorsuch's nomination because he was angry that the judge privately told senators that he found the president's bashing of federal judges "disheartening" and "demoralizing." Per the Post:
The president worried that Gorsuch would not be "loyal," one of the people said, and told aides that he was tempted to pull Gorsuch's nomination — and that he knew plenty of other judges who would want the job. 




It is unclear whether Trump's "explosion," as another administration official described it, truly put Gorsuch's nomination in jeopardy or whether the president was expressing his frustration aloud, as he often does. But at the time, some in the White House and on Capitol Hill feared that Gorsuch's confirmation — which had been shaping up to be one of the clearest triumphs of Trump's tumultuous young presidency — was on the verge of going awry.
White House spokesperson Raj Shah and legislative affairs director Marc Short denied that Trump ever considered abandoning Gorsuch. But if true, the report further bolsters former FBI director James Comey's claim that Trump summoned him to the White House and repeatedly said he needed his "loyalty." And in some ways, it's more troubling.
First, it speaks to Trump's deep misunderstanding of how the U.S. system operates. House Speaker Paul Ryan, echoing other Republicans, has downplayed Trump's apparent disrespect for the independence of federal law enforcement by saying: "The president's new at this. He's new to government, and so he probably wasn't steeped in the long-running protocols that establish the relationships between [the Justice Department], FBI, and White House. He's just new to this."
While that's not a good excuse for a president, it is confusing that the FBI is part of the Executive branch, yet operates independently of the White House. On the other hand, the idea that we have three branches of government and Supreme Court justices don't work for the president is something they go over in grade school.
Trump's repeated attacks on federal judges who don't rule in his favor suggest that if he did know this at some point, he doesn't care. But talk of rescinding Gorsuch's nomination is unhinged even if we only consider how it would have affected Trump personally.
At the time, it was fairly obvious that Gorsuch made the remark to prevent his nomination from being derailed by the uproar over Trump lashing out at the federal judiciary. The president had just tweeted that a "so-called judge" put the nation "in such peril," by blocking his travel ban targeting majority-Muslim countries, adding, "if something happens blame him and court system." Days later Democratic Senator Richard Blumenthal said Gorsuch privately told him he found the comments "disheartening" and "demoralizing."
Ron Bonjean, who helped guide Gorsuch through the confirmation process at the request of the White House, verified that those were the judge's words. That should have been enough of a clue that this was all part of a political strategy, and according to the Post, advisers told Trump that Gorsuch needed to demonstrate his independence from the president to secure enough votes in the Senate.
Yet, Trump was still incensed. On Twitter he accused Blumenthal (and thus Bonjean) of lying about what Gorsuch said, and attacked the senator for misrepresenting his Vietnam service years ago. The Post reports that he privately complained about Gorsuch in a meeting with Paul Ryan and Senate Majority Leader Mitch McConnell. "He's probably going to end up being a liberal like the rest of them," Trump said, according to a source. "You never know with these guys."
This reportedly alarmed McConnell — who had brazenly ignored President Obama's nomination of Merrick Garland to hold the seat for a conservative — and he repeatedly told Trump he needed to stick with Gorsuch. While Trump had top Justice Department officials come up with somewhat plausible reasons for firing Comey (before admitting it was about the Russia probe), it's hard to imagine how he could have spun withdrawing Gorsuch's nomination as anything other than irrational retaliation — or convinced GOP leaders to go along with it
McConnell made good on his promise to ensure the rest of the process went smoothly, and the Senate confirmed Gorsuch by a vote of 54-45 on April 7. While Trump is now poised to sign a major tax overhaul that kills Obamacare's individual mandate, for months the appointment of a jurist in the mold of Antonin Scalia was one of his administration's only major accomplishments. Would McConnell and Ryan — or even average Trump supporters — have supported Trump through the scandal over Comey's firing if it came a month after he flippantly withdrew the nomination of the conservative justice they were promised?
We'll never know — possibly because, unlike Comey, Gorsuch was willing to tell Trump what he wanted to hear. According to the Post, Trump's concerns about Gorsuch's insufficient gratitude were eased when he received a fawning thank you note from the judge in early March. The paper published some quotes from the handwritten letter:
"Your address to Congress was magnificent," Gorsuch wrote. "And you were so kind to recognize Mrs. Scalia, remember the justice [Scalia], and mention me. My teenage daughters were cheering the TV!"




…




"The team you have assembled to assist me in the Senate is remarkable and inspiring," he wrote. "I see daily their love of country and our Constitution, and know it is a tribute to you and your leadership for policy is always about personnel."




He concluded, "Congratulations again on such a great start."
So far Gorsuch has been everything Republicans could have hoped for, but with Trump facing multiple legal challenges, it seems that someday we'll see a real test of his supposed "loyalty" to the president.