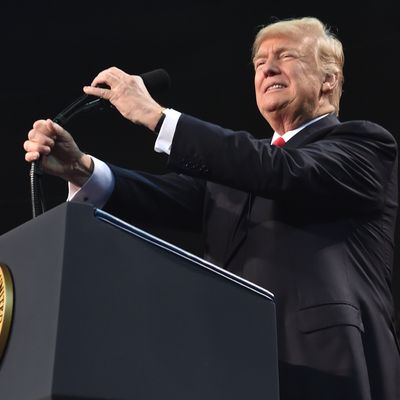 The Trump campaign never really ended, and never will.
Photo: Nicholas Kamm/AFP/Getty Images
President Trump plans to be right in the thick of next year's midterm elections, according to a new report in the Washington Post. The crowd-loving Trump, who seemed to enjoy campaigning for president much more than he enjoys being president, intends to spend much of the year traveling the country and holding rallies in support of Republican Senate, House, and gubernatorial candidates. He may also involve himself in some GOP primary races, and Trump aides have already met with 116 GOP candidates, with more to come.
Trump and White House political director Bill Stepien are planning to meet weekly over the coming months to go over candidates, endorsement criteria, poll numbers, and Trump's forever-campaign plans, per the Post. Regularly scheduled meetings between Trump and candidates are also in the works.
How beneficial Trump and his busted brand can be to most GOP candidates next year — or ever again — is very much up for debate. A new AP-NORC poll indicates that Trump is the least popular first-year president on record, and the president's endorsements have panned out terribly so far. In a stunning election result in Alabama on Tuesday, Democrat Doug Jones won Jeff Sessions's vacated Senate seat, beating Trump-endorsed candidate Roy Moore, who allegedly harassed and molested teenage girls. Trump, who won Alabama by 28 points last year, originally endorsed Luther Strange, the candidate Moore defeated in the state's GOP primary. And in Virginia, the Republican gubernatorial candidate who Trump backed, Ed Gillespie, was soundly defeated by Democrat Ralph Northam last month. In a recent interview, Gillespie admitted that Trump may have been a "big factor" in his loss, though it's true that plenty of other elements beyond the president played into the recent Republican losses.
If next year's fight for Congress becomes a referendum on Trump, it would be a dream scenario for most Democrats. Trump's approval rating has been in the toilet for most of the year, and the Trump-and-Republican-run government is only now on the cusp of its first major legislative achievement — a massively unpopular tax cut for corporations and the wealthy, which may also gut the increasingly popular Affordable Care Act.
Doubtless, the next ten months will bring plenty more chaos from the White House. That doesn't even include what Trump will end up saying at all those rallies, or how he may attack GOP candidates who refuse his help, creating even more problems for the party.
Trump's attention will still come with some benefits for Republican candidates, of course. The Post reports that some GOP fundraising efforts have suffered during the Trump presidency, so the president's ability to raise money from the donor class could be essential. And in truly safe districts and states for the GOP, Trump's value as a fundraiser, media magnet, and someone still beloved by much of the Republican voter base will be in demand.
But Trump is undoubtedly the person and idea that Democrats most want to run against next year, regardless of the actual GOP candidates they face.
Despite the enormous risk involved — and Trump's well-known love for talking about himself in front of big rooms filled with adoring fans — Stepien told the Post that the president's motives are entirely pragmatic, and that public poll numbers don't reflect his real popularity.
"For the president, this isn't about adulation and cheering crowds — this is about electing and reelecting Republicans," Stepien claimed.
But it might be that the best thing Trump can do to help elect and reelect Republicans is disappear.