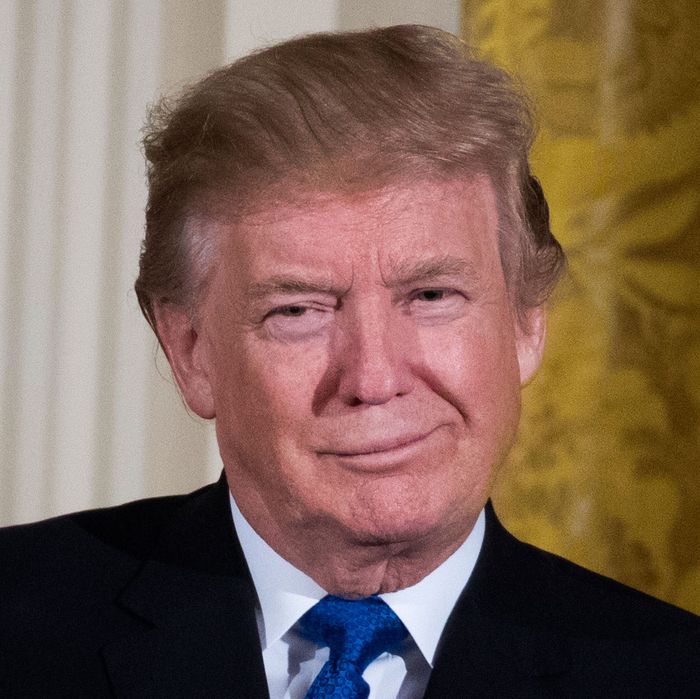 The president drew boastful attention to a poll that actually wasn't very good for him.
Photo: Drew Angerer/Getty Images
We all know that our president loves to read polls, and is very partial to polls that reflect well on his own self. Still, this triumphant tweet is more than a bit of an eyebrow-raiser:
It's understandable that Trump likes this approval number; his current approval/disapproval ratio in the RealClearPolitics polling average is 38/58. But even the Morning Consult tracking poll (which has regularly rivaled Rasmussen in showing relatively high approval ratings for Trump) he is pointing red-hot arrows of excitement toward is a survey full of bad news for Trump.
For one thing, while 45 percent of registered voters in this poll approve of the job Trump is doing, 51 percent disapprove. But it gets far worse for Trump.
Asked if he's "honest," 51 percent of Morning Consult's respondents say "no," as opposed to just 36 percent who say "yes."
Only 37 percent think Trump is "stable." 51 percent don't.
Thirty-six percent think Trump is "compassionate." Fifty-three percent don't.
Sixty percent think Trump is "reckless." Only 29 percent don't.
By a margin of 54 to 32 percent, respondents think Trump is "sexist." For that matter, they consider allegations of sexual misconduct against the president "credible" by more than a two-to-one margin (53/26). And by a 59/17 margin, respondents think that if Trump's candidate Roy Moore is elected to the Senate, he should expelled.
And this is a relatively favorable poll for Trump. He should probably go back to attacking polls — or indeed, any information about his political standing other than the fact that once upon a time he was elected president — as fake news.