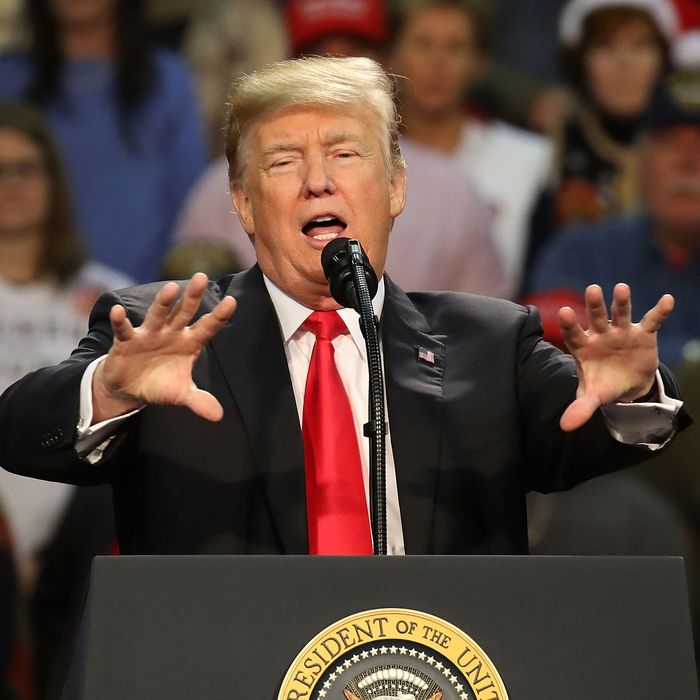 The president grabbed for attention on Friday night.
Photo: Joe Raedle/Getty Images
During what appeared to be a reelection-campaign rally on Friday night in Pensacola, Florida, President Trump again urged residents in next-door Alabama to vote for GOP Senate candidate Roy Moore in Tuesday's special election. Trump, who officially endorsed the alleged sexual predator on Monday, also attempted to cast doubt on one of the multiple women who have come forward to say that Moore molested or made unwanted advances on them when they were teenagers. (Moore has denied the allegations.)
"Get out and vote for Roy Moore — do it, do it, do it," Trump urged the crowd in the middle of his almost 80 minutes of mostly prepared remarks. The president didn't have much to say on Moore's behalf, however, other than to point out that he would be a reliable pro-Trump vote in the Senate. The president instead spent most of his time on the subject attacking Moore's Democratic opponent, Doug Jones. Veering from his teleprompter, Trump also sought to discredit one of Moore's accusers.
On Friday, Beverly Young Nelson explained that she had added her own notes to an inscription and signature that she says Moore wrote in her yearbook in 1977, when she was 16 years old. At that time, according to Nelson, Moore was pursuing a sexual relationship with her and had groped and tried to rape her. Nelson's attorney, Gloria Allred, had incorrectly attributed the notes to Moore when she and Nelson revealed the yearbook page at a press conference last month. Moore's allies unsurprisingly seized on Friday's news as proof that Nelson had fabricated the story and yearbook inscription, though adding a note about when and where Moore signed the yearbook hardly discredits her account. Nor does it weaken the allegations of the eight other women who have come forward to accuse Moore.
Trump didn't miss his opportunity to bring up the yearbook note on Friday night, and seemed to relish the chance to try to discredit both Nelson and Allred, who also represents three of the 16 women who have accused Trump of sexual misconduct.
"Well I have to say, so did you see what happened today? You know the yearbook? Did you see that?" Trump asked the crowd in Pensacola on Friday. Then in a small, whiny voice, Trump added, "There was a little mistake made, she started writing things in the yearbook — what are we gonna do?"
"Gloria Allred, you know anytime you see her, you know something is going wrong," Trump went on, before warning the crowd that the country, and his agenda for it, couldn't afford the loss of a Republican seat in the Senate.
The rest of Trump's speech at the rally was a standard assortment of boasts and attacks. In addition to celebrating himself and how well his presidency is going, Trump predicted that he would be difficult to defeat in the next election and ranted about his usual favorite topics, from the Paris accord and chain migration to people who won't say "Merry Christmas" and Arnold Schwarzenegger.
He also ridiculed those resisting his presidency, painting them as the bitter beneficiaries of the pre-Trump order. After claiming that Washington elites have been getting rich off the country and wondering aloud if there was a way he could use his power to prevent their investments from increasing in value, Trump — who has had abysmal approval ratings for most of his presidency — went after the Americans opposed to his administration who call themselves "the resistance."
"Oh these resistors resist. Hillary [Clinton] resisted and you know what happened — she lost the election in a landslide," Trump bragged with a smile.
"Do you know what they're really resisting?" he continued, "They are resisting the will of the American people."
Trump, who lost the popular vote to Clinton in 2016 by almost 3 million votes, then paused to let the crowd chant, "Lock her up."