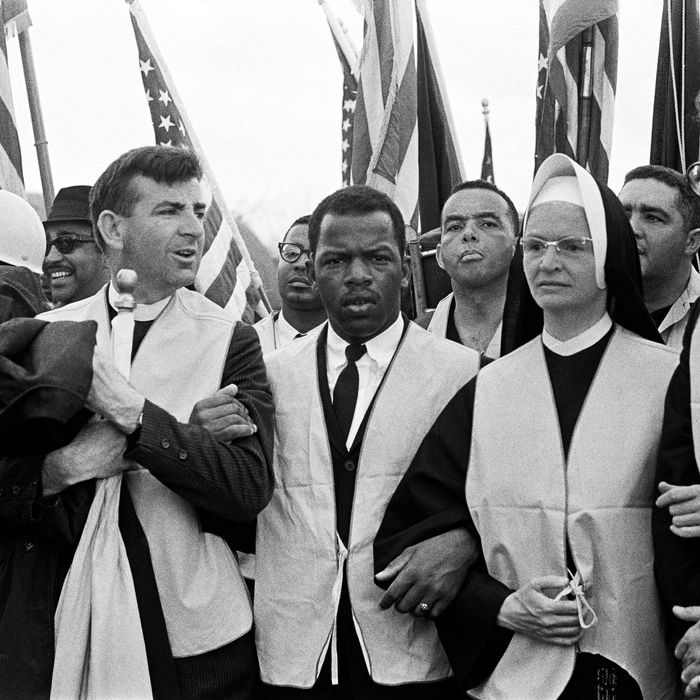 John Lewis, circa 1965.
Photo: Stephen F. Somerstein/Getty Images
This weekend, a new museum honoring the civil-rights movement will open in Mississippi — and president Trump will be on hand to honor the occasion. Given that Trump has fomented racist conspiracy theories about the first African-American president; called for banning all Muslims from the United States; encouraged police officers to brutalize criminal suspects; called for black athletes who protest racial discrimination during pre-game ceremonies to lose their jobs; and, just days ago, retweeted hateful propaganda from a (literal) fascist organization, the NAACP has called Trump's presence at the grand opening "an affront to the veterans of the civil rights movement."
John Lewis shares this assessment. The former civil-rights organizer and current Georgia congressman said Thursday that he would not attend the opening this weekend, as doing so would require him to share a stage with Trump. Mississippi congressman Bennie Thompson said that he, too, would not appear at the celebration this weekend, should the president be in attendance.
"I think his presence would make a mockery of everything that people tried to do to redeem the soul of America and to make this country better," Lewis told reporters.
In response, the White House issued a statement saying, "we think it's unfortunate that these members of Congress wouldn't join the President in honoring the incredible sacrifice civil rights leaders made to right the injustices in our history."
On March 7, 1965, John Lewis marched with hundreds of other civil-rights activists across the Edmund Pettus Bridge in Selma, Alabama, in protest of the mass disenfranchisement of African Americans in the South. Alabama state troopers beat Lewis until they fractured his skull. Eight days after the protest captured national attention, Lyndon B. Johnson called on Congress to pass legislation enabling the federal government to guarantee every American citizen access to the ballot, and the Voting Rights Act of 1965 passed five months later.