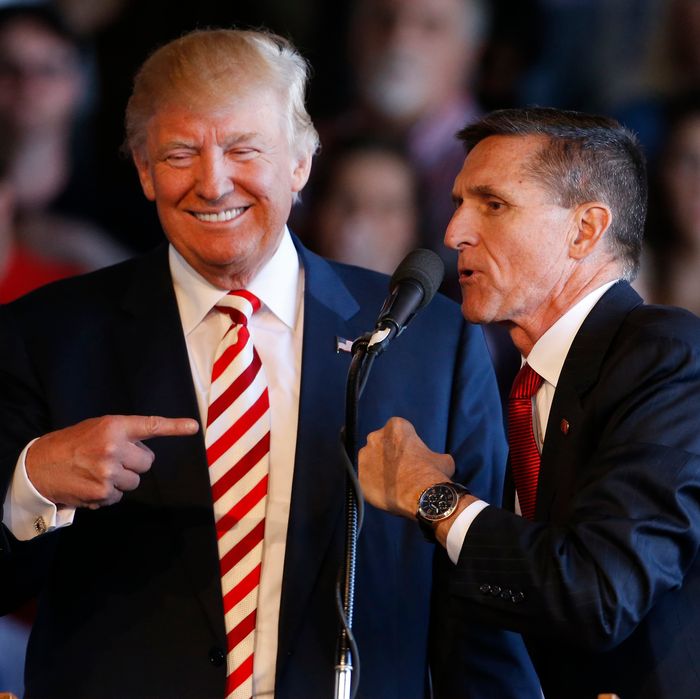 There's one small flaw in this strategy.
Photo: George Frey/Getty Images
When former national security adviser Michael Flynn pleaded guilty to making false statements to the FBI a month ago, President Trump's attorney Ty Cobb released a statement that described Flynn as a "former Obama administration official" who only served "for 25 days during the Trump administration."
As we've seen with Paul Manafort and George Papadopoulos, Trump's default position is to downplay his relationship with any former associates who happen to be indicted by special counsel Robert Mueller's team. However, it's harder to distance yourself from a former top White House official who memorably led a "lock her up" chant on the first night of your nominating convention.
The leniency of Flynn's plea agreement suggests that he's promised Mueller's team valuable information, so Trump's team has come up with another strategy. The Washington Post reports: "President Trump's legal team plans to cast former national security adviser Michael T. Flynn as a liar seeking to protect himself if he accuses the president or his senior aides of any wrongdoing, according to three people familiar with the strategy." As one person working on the plan put it, "He's said it himself: He's a liar."
Who are you going to believe, an admitted liar or the president of the United States? sounds like a logical defense until you plug in what we know about this particular president, and his relationship with the liar in question. Aside from the hypocrisy of Trump attacking anyone for misstating the truth, the plan revives questions about why the president went out of his way to defend Flynn, even after he fired him for lying.
In the days after Trump asked for Flynn's resignation, he said he had to go because he misled Vice-President Mike Pence about his conversations with then-Russian ambassador Sergey Kislyak during the transition. However, Trump argued that by making those calls Flynn was just "doing his job," and stressed that he still considered him a man of fine character.
"Michael Flynn, General Flynn, is a wonderful man," Trump said on February 15. "I think he's been treated very, very unfairly by the media — as I call it, the fake media, in many cases. And I think it's really a sad thing that he was treated so badly."
Trump then defended the calls to Kislyak at a press conference the following day:
When Flynn floated the idea of seeking immunity in exchange for his testimony before Congress in March, Trump tweeted his support:
And in May Trump told NBC's Lester Holt that after former acting attorney general Sally Yates warned that Flynn wasn't telling the truth about his discussions with Kislyak, he did nothing for 18 days due to his respect for Flynn. "This man has served for many years, he's a general, he's a — in my opinion — a very good person," Trump said. "I believe that it would be very unfair to hear from somebody who we don't even know and immediately run out and fire a general."
Even after Flynn pleaded guilty to lying to the FBI earlier this month, Trump continued expressing sympathy for his former adviser.
That tweet, which the White House later claimed was written by Trump's attorney, generated controversy as it seemed to imply the president knew Flynn had lied to the FBI as well as Pence before he fired him. But days later, Trump was still publicly defending Flynn.
"I feel badly for General Flynn," Trump told reporters on December 4, claiming again that Clinton committed worse offenses. "She lied many times. Nothing happened to her. Flynn lied, and it's like they ruined his life. It's very unfair," Trump said.
Trump even suggested on December 15 that he may pardon his former adviser. "I don't want to talk about pardons for Michael Flynn yet," Trump said. "We'll see what happens. Let's see. I can say this: When you look at what's gone on with the FBI and with the Justice Department, people are very, very angry."
That's only what Trump has said publicly about Flynn. Trump reportedly hired Flynn despite a post-election warning from President Obama. Former FBI director James Comey testified that a day after Flynn was fired, Trump told him, "'I hope you can see your way clear to letting this go, to letting Flynn go. He is a good guy. I hope you can let this go." Flynn also claimed that Trump sent him a message in April telling him to "stay strong."
While Flynn's lying is ostensibly what prompted his firing, Trump has consistently portrayed his former adviser as a good person who made a mistake, and is now being unfairly dragged through the mud. Suddenly accusing Flynn of being a deceitful opportunist the moment he says something negative about Trump isn't a very convincing strategy. On the other hand, it should be enough to satisfy those who already believe Mueller's investigation is a sham, and the Trump team might not have a better option.