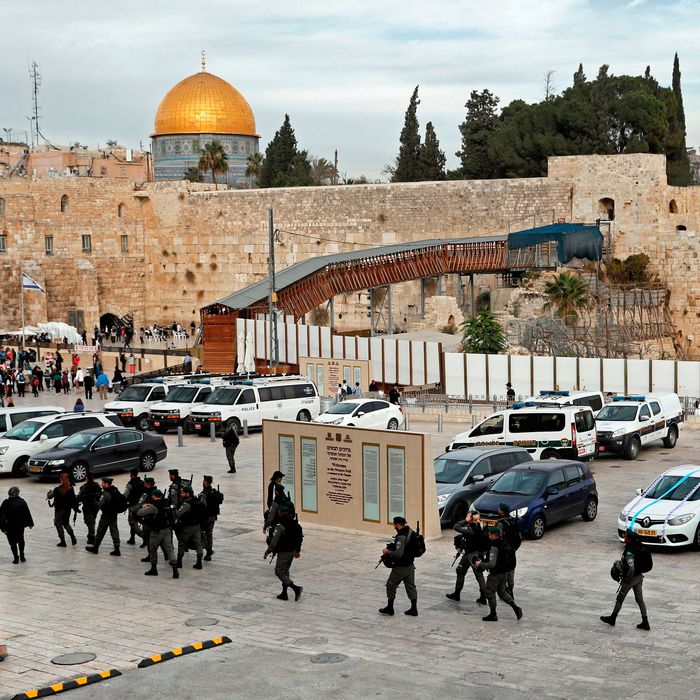 Jerusalem.
Photo: Thomas Coex/AFP/Getty Images
President Trump is set to announce on Wednesday that the U.S. recognizes Jerusalem as the capital of Israel, in a break with long-standing U.S. policy that is likely to please almost no one while possibly inflaming tensions across the Middle East. But, Bloomberg reports, Trump is holding off on actually moving the U.S. embassy to Jerusalem for at least another six months by signing a waiver to keep the building in Tel Aviv.
Trump informed several Middle Eastern leaders, including Palestinian leader Mahmoud Abbas and Israel's Benjamin Netanyahu, of his decision on Tuesday. He is expected to make a speech on Wednesday outlining the justification for it, such as there is one.
Leader after leader urged Trump to reconsider, warning that moving the embassy would halt an already-moribund peace process (unless you count Jared Kushner's nascent efforts). Palestinians consider East Jerusalem, which was captured by Israel in the 1967 War, as their capital. Going beyond rhetoric and actually moving the embassy would likely spark violence among Palestinians and lead to serious regional repercussions.
Abbas warned that such a move would have "dangerous consequences," and said he would enlist the pope and other world leaders to try to block Trump from going through with it.
King Abdullah II of Jordan also advised Trump against the move, saying in a statement that "the adoption of this resolution will have serious implications for security and stability in the Middle East." Turkish president Recep Tayyip Erdogan said that he would consider cutting off ties with Israel if Trump moves the embassy, and that "Jerusalem is a red line for Muslims." Saudi Arabia, a staunch American ally, expressed its "deep concerns."
Trump repeatedly promised to relocate the embassy to Jerusalem on the campaign trail, to the delight of Evangelical Christians and some right-wing Jews — though other presidential candidates have also made that promise, only to bow to political reality when the rubber hit the road. For now, Trump is following that trend by signing the six-month waiver that was a mainstay of his predecessors. But, at the least, he's injecting his usual toxic mix of bluster and certainty into a region that doesn't need any more of either.