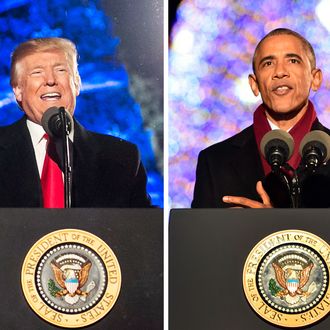 Donald Trump and Barack Obama.
Photo: Al Drago-Pool/Getty Images; Nicholas Kamm/Getty Images
Remember when Obama was inaugurated — twice — and at least a million people attended both times. And then Trump was inaugurated — once — and a pitiful 250,000 folks bothered to show up. And then Trump got very mad about it and made Sean Spicer lie about how it was the biggest event ever. Well, it's happened again. At least the low-turnout bit. Crowds were noticeably thin during last night's National Christmas Tree Lighting Ceremony in D.C.
By comparison, photos from ceremonies during the Obama administration seem to show a much more body-filled event. Of course, we don't have a head count, so we can't say for certain, but either way, the optics aren't great.
[Sings to the tune of "It's Beginning to Look a Lot Like Christmas"] It's beginning to look a lot like Trump-Pence!