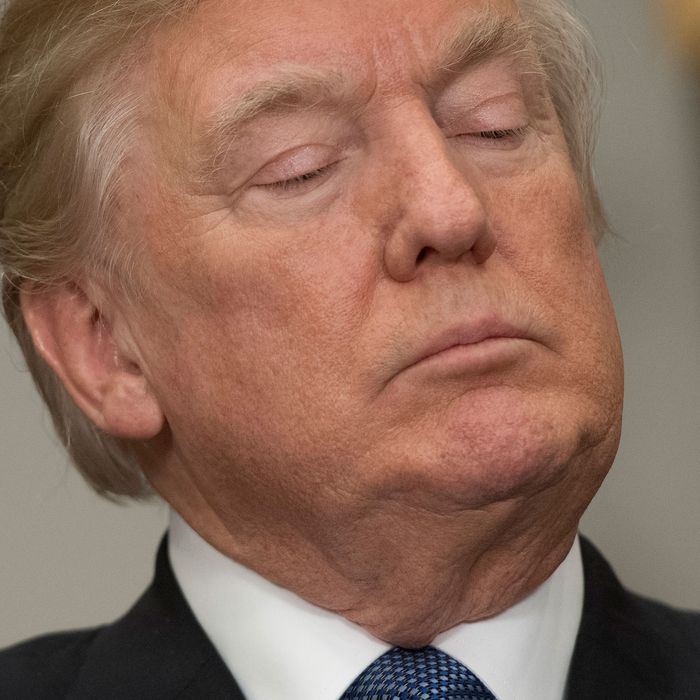 Mr. Decorum.
Photo: Saul Loeb/AFP/Getty Images
After six people were killed in a train crash in Washington State, President "appreciate the congrats" Trump initially reacted not by offering condolences to the victims or reflecting on the scale of the tragedy. Instead, he said … this:
(Trump did get around to acknowledging the deaths a few minutes later.)
Beyond the routine ghoulishness we've all become inured to, Trump's tweets also make zero sense from a policy standpoint.
For one thing, the few details the Trump administration has released regarding its long-delayed infrastructure plan show it to be less public investment than a tax windfall for rich developers, who would be given favorable terms to build the roads, bridges, and more that government has traditionally been responsible for.
But more to the point, the Trump administration has shown no enthusiasm for high-speed rail, or trains of any kind.
As the Washington Post reported in May, the president's proposed transportation budget "slashes federal aid to the nation's rail systems by cutting funding for long-distance Amtrak service and severely limiting money to help expand transit lines and build new ones."
And, perhaps even more to the point, we still don't know what caused Monday's accident — whether it was "infrastructure"-related or something else entirely. The National Transportation Safety Board has launched an investigation.
Commenting irresponsibly before all the facts are in; using tragedy to push an agenda with little thought to the human beings involved; and maintaining little to no grasp of that agenda. Yep, that's our president!