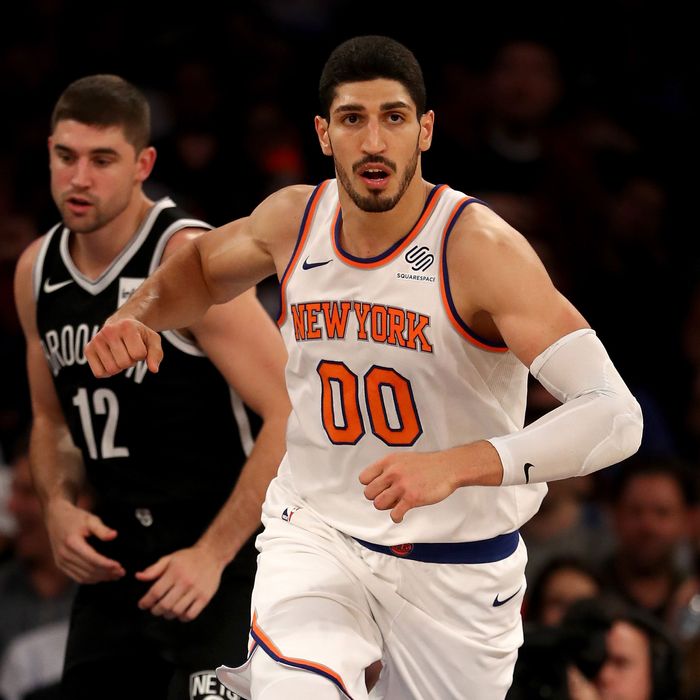 Enes Kanter.
Photo: Elsa/Getty Images
Knicks center Enes Kanter is a wanted man in Turkey because he tweeted mean things about President Recep Tayyip Erdogan earlier this year.
Anadolu Agency, a state-run news service, says Istanbul's chief prosecutor has drawn up an indictment of the 25-year-old and is seeking to throw him in jail for four years.
Kanter is an outspoken critic of Erdogan, who he's called the "Hitler of our century," and a supporter of U.S.-based cleric Fethullah Gülen. The exiled Erdogan opponent is accused of orchestrating a failed coup in Turkey last year. Kanter has vocally refuted that story, arguing that the coup was faked by Erdogan and used as a front to crack down on dissent.
For his opinions, Kanter has been labeled a terrorist in Turkey. In May, his passport was revoked, leaving him stranded in a Romanian airport as a minor diplomatic crisis unfolded. He eventually made it back to the U.S., but he has not stopped his criticism of the Turkish regime.
Asked Wednesday about its latest attempt to silence him, Kanter criticized Erdogan's authoritarian tendencies. "I've said this before, that dude is [a] maniac," Kanter said. "Think about it. I mean, America, you've got freedom of speech — or you had. You've got freedom of speech. You've got freedom of whatever you want to say. I mean, it's a free country."
"But it's not like that in Turkey. You cannot criticize or you cannot even say nothing bad about the dude."