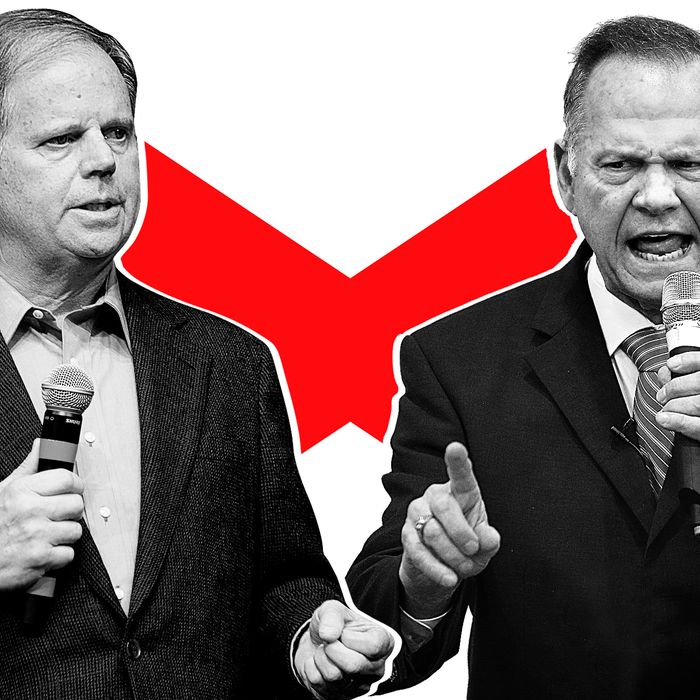 The battle for a Senate seat in Alabama between Democrat Doug Jones and Republican Roy Moore has been a strange contest with an unclear outcome.
Photo-Illustration: Daily Intelligencer. Photos: Getty Images
The December 12 special Senate election in Alabama is a high-stakes event in a place where general elections are normally snoozers dominated by Republicans. This election could reduce the GOP margin in the U.S. Senate to a bare majority and make a momentous 2018 Democratic takeover of that chamber significantly more likely. But if the GOP candidate wins, the results could create some extremely uncomfortable moments in the party's Senate cloakrooms, compounded by a possible Ethics Committee investigation and even a vote for censure or expulsion, amid fears that anything less than that might brand Republicans as the party of sexual predators at an especially inauspicious moment. And now on the eve of the election, the outcome remains uncertain.
The identity of the Republican nominee, Judge Roy Moore, is the reason for all this turbulence and all this national interest. Unpopular as he was, had appointed Senator Luther Strange defeated Moore in the GOP primary, the special general-election campaign would have likely been over before it really started; Republicans have won every statewide election since 2008, and every Senate election since 1992. But Moore has been controversial nationally and in Alabama since he unveiled a two-ton granite engraving of the Ten Commandments in his State Supreme Court courtroom in 2001, launching the first of repeated acts of defiance against the Constitution as interpreted by the federal judiciary. He was actually removed from his position as State Supreme Court chief justice during the Ten Commandments brouhaha, and after a return to that position later he was suspended for refusing to comply with the U.S. Supreme Court's decision legalizing same-sex marriage.
But vulnerable as Moore was to people uncomfortable with theocracy, it was the series of explosive allegations against him (emerging after he won the Senate nomination) for pursuing teenage girls, some as young as 14, when he was a 30-something prosecutor back in the late 1970s, that have made Moore toxic to many of his would-be future Senate colleagues. The furor has given Democrat Doug Jones (a former U.S. attorney who became famous for successfully prosecuting the racist perpetrators of an infamous 1963 church bombing that killed four black children) a lot of backing, and real hope for an upset. Meanwhile, national Republicans have been coping with a Hobbesian choice between losing a Senate seat or tainting themselves by association with a bizarre and repellent Old South character right out of Flannery O'Connor.
For a brief moment after the sexual allegations against Moore appeared (and quickly proliferated), it looked like either Jones would run away with the election or Republicans would find some write-in candidate to back (it was too late in the process to replace their nominee). But even as national Republicans backed away from the judge, most Alabama Republicans stood by their man, and when President Trump (after some equivocation) joined them, Moore's comeback got quickly under way. It was probably aided by the fact that he categorically denied each and every allegation and emulated his presidential role model by attributing them to a liberal Yankee media conspiracy. Within a couple of weeks of the initial story from the Washington Post, Moore had stopped and begun to reverse his slippage in the polls. The judge has led in the RealClearPolitics average of polls since November 27, with a drumbeat of evidence that the majority of likely voters who are self-identified Republicans are getting behind Moore and not believing the allegations against him.
While the emerging conventional wisdom seemed to be that Moore had overcome his crisis and was cruising to victory, there was one impossible-to-ignore phenomenon that undermined that meme: Doug Jones's campaign was by any measure a lot more visible than Moore's, and was clearly generating more enthusiasm.
Jones has dominated the airwaves, outspending Moore on TV ads by roughly a ten-to-one margin. The judge has never been much of a fundraiser, however, and with 100 percent name ID in Alabama, he hardly needed to introduce himself to voters the way Jones has had to do. But there have been more disturbing (to Republicans) signs of what some have called a "ghost campaign" for Moore.
Since winning the GOP nomination in September, Moore has put together an effort that has come to be defined by few staffers, little money, skimpy television ad buys, no volunteer apparatus, a nearly absentee candidate and no press interviews.
Most remarkably, on the last weekend of the campaign, when he and his people should have been in a teeth-grinding frenzy to set up a get-out-the-vote operation for Election Day, Moore reportedly spent two days in Philadelphia on a trip to see his son (a cadet at West Point) and watch the Army-Navy game. The most overbearingly religious man in American politics didn't even show up at his own church the Sunday before facing voters. In general, his behavior has been that of a candidate who has been told to stay out of sight.
Moore's strange voting coalition may explain his disappearing act. He is counting on the votes of two very different kinds of Republicans. The first group is his loyal white conservative Evangelical base, which has been voting for him through thick and thin since he first ran for statewide office in 2000. They are precisely the kind of voters who need no particular encouragement to show up at the polls, even for a December special election. The second group, however, is composed of partisan Republicans who will vote for the judge strictly because of that R next to his name, despite his reputation as a scofflaw and as a possible sexual predator. The less they see and hear from Roy, the higher the odds they will actually vote for him.
Meanwhile the Jones campaign is belying earlier fears that it would not work hard to turn out African-American voters (a clear majority of the state's Democrats) by deploying a variety of trusted surrogates, from Alabama's one Democratic congressman, Terri Sewell, to civil-rights hero John Lewis, to national political stars Cory Booker and Deval Patrick, to the biggest gun of all, Barack Obama (whose robocall for Jones has been recorded but not yet used as of the end of the weekend).
The ghostly nature of Moore's campaign does not extend to his most famous supporter, Obama's successor, who has taped his own robocall for the judge, and who headlined a rally just over the state line in Florida at the center of a media market that covers part of Alabama (he probably didn't campaign in Alabama himself because of a fear of associating himself with a possible loser, as he did in campaigning locally for Moore's GOP rival Luther Strange).
It is clear that different assessments of the race depend on very different assumptions about who will turn out for a single-contest special election less than two weeks before Christmas after a campaign that has largely revolved around tales of the front-runner trawling malls for teenagers. There's no sure or easy way to figure that out; most of the polls that have shown Moore in the lead have relied on a combination of objective factors (prior voting history) and self-reported interest in the race to determine the shape of the electorate; none of these indicators are foolproof for an election like this one. The consensus that Moore would comfortably win, moreover, was shaken up massively the day before the balloting by a Fox News poll showing Jones ahead by a shocking ten points.
Nate Silver sums up the wild variations in Alabama polls as probably a matter of methodological differences in a race where judging whose opinion to poll is so difficult.
Most polls of the state have been made using automated scripts (these are sometimes also called IVR or "robopolls"). These polls have generally shown Moore ahead and closing strongly toward the end of the campaign, such as the Emerson College poll on Monday that showed Moore leading by 9 points. Recent automated polls from Trafalgar Group, JMC Analytics and Polling, Gravis Marketing and Strategy Research have also shown Moore with the lead.




But when traditional, live-caller polls have weighed in — although these polls have been few and far between — they've shown a much different result. A Monmouth University survey released on Monday showed a tied race. Fox News's final poll of the race, also released on Monday, showed Jones ahead by 10 percentage points. An earlier Fox News survey also had Jones comfortably ahead, while a Washington Post poll from late November had Jones up 3 points at a time when most other polls showed the race swinging back to Moore.
As Silver goes on to explain, the traditional polls could be more accurate because they include cell-phone calls which tend to identify Democratic-leaning voters missed by robo-polls. But robo-polls could be more accurate because they make it easier for voters to admit they are supporting someone as controversial as the Ayatollah of Alabama.
For what it's worth, the third kind of polls, conducted online, favor Moore. But the most interesting online poll, from SurveyMonkey, shows that the outcome totally depends on different turnout models. Even then, the picture is complicated:
These data imply that Democratic turnout will be higher, but Democrats plus Democratic leaners are still a minority in Alabama. Jones does have a significant advantage (55 to 33 percent) among independents who lean to neither party, but a Jones victory also requires that significant numbers of Republicans either vote for him or skip the election.
If the race is close, then all sorts of otherwise marginal factors could become crucial, from GOP loyalty to Trump to the example set by Moore's would-be Senate colleague, Richard Shelby, who says he cast a write-in vote for a third candidate. And if the race is very close, the small percentage of votes cast for the one significant announced write-in candidate, retired Marine colonel Lee Busby, could wind up mattering a great deal.
Either way, Shelby and other Senate Republicans will have a sober Wednesday morning after the returns come in on Tuesday night. Either they'll be dealing with a new Democratic colleague from Alabama who could get his party one crucial step closer to a 2018 conquest of the Senate. Or they will be coming to grips with the Republican colleague from hell.