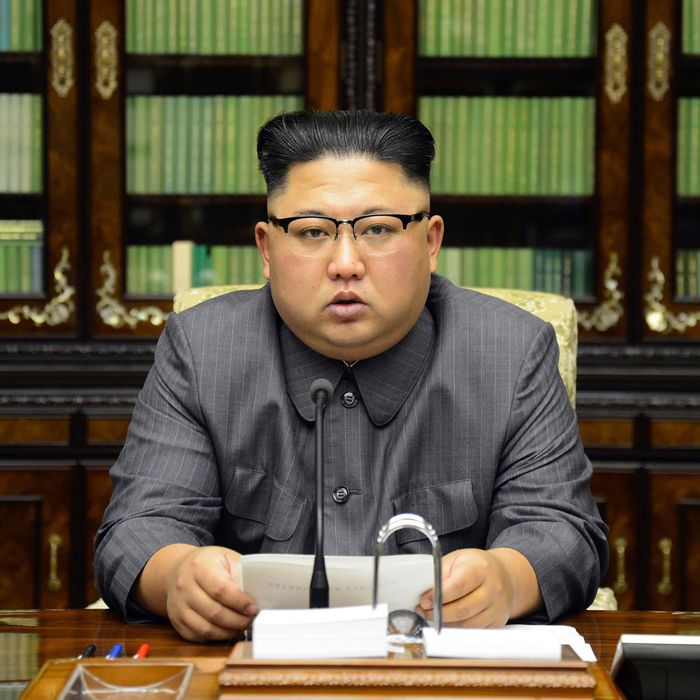 A/S/L?
Photo: STR/AFP/Getty Images
The United States said that it had proof that North Korea was behind the WannaCry ransomware attack, which hobbled computer systems worldwide for several days in May.
In an op-ed published in The Wall Street Journal Monday evening, Homeland Security official Tom Bossert wrote that "we do not make this allegation lightly, and we are not alone with our findings, either." He also included a bit of saber-rattling: "North Korea continues to threaten America, Europe and the rest of the world—and not just with its nuclear aspirations. It is increasingly using cyberattacks to fund its reckless behavior and cause disruption across the world."
At a press conference Tuesday morning, Bossert said the attacks "put lives at risk, not just money."
The attack targeted computers that used the Microsoft Windows XP operating system, encrypting data and demanding payments in bitcoin. Roughly 230,000 computers were hit, and several large systems were badly compromised, most prominently the National Health Service in the U.K.
The National Security Agency and British government have both expressed their beliefs that North Korea was behind the attack. The rogue nation, which has developed increasingly sophisticated electronic weapons, has demonstrated its cyberprowess on the world stage before: It hacked Sony Pictures in 2014, leading to sanctions from the Obama administration.
But some Democrats wondered why the Trump administration was so eager to aggressively confront North Korea when it has shown no such enthusiasm in challenging Russia, which several intelligence agencies have concluded hacked sensitive materials to help swing the 2016 election.
"President Trump is handling the intelligence assessments regarding North Korea and Russia completely differently, staging an elaborate media roll-out to press on sanctions against North Korea while at the same time discrediting the assessment by these very same intelligence agencies that the Kremlin interfered with our election," Congressman Elijah E. Cummings, a Democrat from Maryland, told the Washington Post.