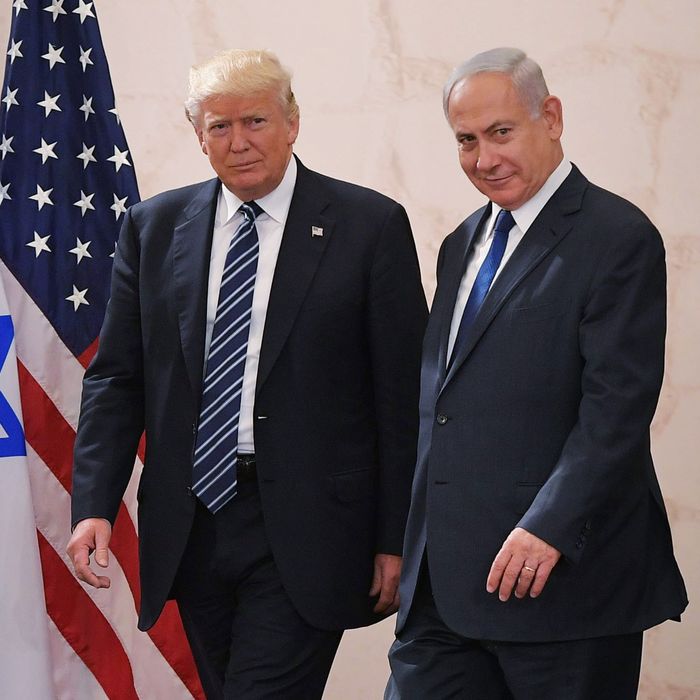 Deal or no deal?
Photo: Mandel Ngan/AFP/Getty Images
Earlier this month, senior U.S. and Israeli officials met at the White House to develop a plan for countering Iranian activity in the Middle East. On Thursday, Axios got a copy of the blueprint they arrived at. The document is mostly a snoozer — it will surprise no one that America and Israel would like to undermine Iran's ballistic-missile program and limit its influence in Syria and Lebanon. But there is one dollop of hot sauce on this nothing burger: a tacit confirmation that the American and Israeli governments believe the Iran nuclear agreement is worth preserving.
Here is one of the four goals contained in the "joint strategic work plan," according to Axios:
Covert and diplomatic action to block Iran's path to nuclear weapons – according to the U.S. official this working group will deal with diplomatic steps that can be taken as part of the Iran nuclear deal to further monitor and verify that Iran is not violating the deal. It also includes diplomatic steps outside of the nuclear deal to put more pressure on Iran. The working group will deal with possible covert steps against the Iranian nuclear program.
On one level, this is unsurprising. National security adviser H.R. McMaster, Defense Secretary James Mattis, and Secretary of State Rex Tillerson have all said that unilaterally withdrawing from the JCPOA (the technical name of the Iran agreement) is not in America's national interest. And Israel's defense establishment has been broadly supportive of the deal. Which makes sense: According to international inspectors, Iran is complying with the JCPOA, and thus, a supposedly "existential" threat to the Jewish state has been neutralized. Further, a unilateral U.S. withdrawal — despite Iranian compliance — would nullify America's diplomatic credibility, and alienate the U.S. (even further) from its core European allies.
And yet, President Donald Trump and Prime Minister Bibi Netanyahu have been unrelenting in their criticism of the agreement — with the former painting it as a borderline treasonous giveaway to Iranian terrorists, and the latter as a scam that will provide Tehran with "as many as 100 nuclear bombs" in "a few years' time." In this context, the fact that both nations treat the deal as a vital tool in official strategic documents is noteworthy. It would seem to suggest that American and Israeli opposition to JCPOA is just for show.
But then, of course, Donald Trump is not above making hugely consequential policy decisions — over the objections of his top advisers — just for show (see: climate accord, Paris). And the coming month will test the president's tolerance for putting strategic wisdom above political posturing.
The Iran agreement requires the American president to issue temporary waivers of U.S. sanctions against Iran every 120 days. Meanwhile, the Iran Nuclear Agreement Review Act, passed by Congress in 2015, requires Trump to certify that Iran is meeting its obligations under the agreement every 90 days. Trump will run into deadlines for both these actions in mid-January.
The waiver and certification requirements could very well prove fatal to the JCPOA. The president's foreign-policy team kept him from sabotaging the Iran deal for most of 2017. But the indignity of having to formally acknowledge the agreement's success (which he had spent his entire campaign denying) — and actively abet sanctions relief for Iran (which he had spent his entire campaign decrying) — was ultimately more than Trump could stand. In October, the president refused to certify the deal, and called on Congress and America's European allies to amend the agreement's weaknesses.
That decision didn't immediately impact the JCPOA — the agreement doesn't actually require Trump to certify Iranian compliance every 90 days, only U.S. law does. But Trump warned in October that "[i]n the event we are not able to reach a solution working with Congress and our allies, then the agreement will be terminated."
Congressional leaders are currently working to provide Trump with a fig leaf — some purely symbolic legislation that allows him to declare victory and leave the Iran deal in peace. But that effort is looking awfully precarious, as Politico's Michael Crowley reports:
McMaster has met with Senate Foreign Relations Chairman Bob Corker (R-Tenn.) and the committee's ranking Democrat, Ben Cardin of Maryland, to discuss potential legislation that might appease Trump. As the year wound down, Cardin and Corker continued discussions about what such legislation could look like.




Congressional sources said the goal is to find language that would take a hard line on Iran — but on non-nuclear issues, so as not to violate the deal's terms, which prohibit the imposition of new conditions on Iran's nuclear program after the deal was concluded.




… A congressional measure "may convince Trump to somehow say he has changed the conversation and he may not take any precipitous action in the near term," said Daryl Kimball, executive director of the Arms Control Association, a nonprofit Washington group that strongly supports the nuclear agreement.




… But Corker and Cardin will have little time after Congress reconvenes to craft language before the certification and sanctions waiver deadlines arrive.
To review: Every major European nation, the top national security experts in the U.S. and Israeli governments, and the congressional leadership of both of America's political parties all agree that it would be a disaster for Trump to unilaterally withdraw from the Iran deal — but the president could very well do so anyway, unless Congress passes legislation that makes preserving the deal less injurious to his ego by mid-January.