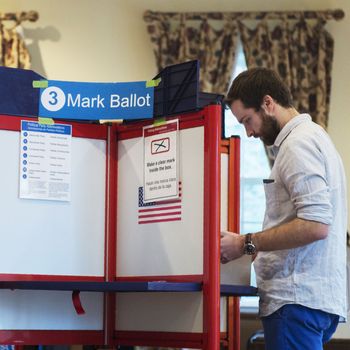 Usually good to do this.
Photo: Andrew Caballero-Reynolds/AFP/Getty Images
In a story that is destined to serve alternately as legend or cautionary tale for political organizers throughout the ages, a pivotal Virginia election has been decided, incredibly, by one vote.
After a recount that included absentee ballots, Democrat Shelly Simonds emerged victorious over Republican incumbent David Yancey in the state's 94th District, 11,608 votes to 11,607. Going into Tuesday, Yancey had a ten-vote lead, but a painstaking recount flipped the result by the slimmest of margins. A three-judge board of elections must certify the result on Wednesday, though legal challenges from Yancey are likely.
If it holds, the overturned result means that Democrats and Republicans would be deadlocked at 50 seats each in Virginia's House of Delegates, the state's lower chamber. The tie would usher in a power-sharing arrangement in which the two sides would negotiate committee chairs and a House Speaker.
Republicans still hold a 21-19 majority in the State Senate. But Democrats are tantalizingly close to total control over state government, which would all but guarantee the enactment of consequential legislation, most prominently Medicaid expansion.
Simonds wasn't forecast to be a serious competitor to Yancey going into the November 7 election; nor were Democrats expected to have a chance to take back the House of Delegates, which Republicans have controlled for 17 years. But an anti-Trump suburban wave helped transform a 66-34 Republican advantage into a deadlock, as well as delivering a nine-point victory for Democratic Ralph Northam in the governor's race. (Democrats won considerably more of the popular vote than Republicans statewide, and would hold a legislative majority if not for gerrymandering, but that's a story for another day.)
The moral of the story? Every vote counts, unless the Supreme Court decides it doesn't.