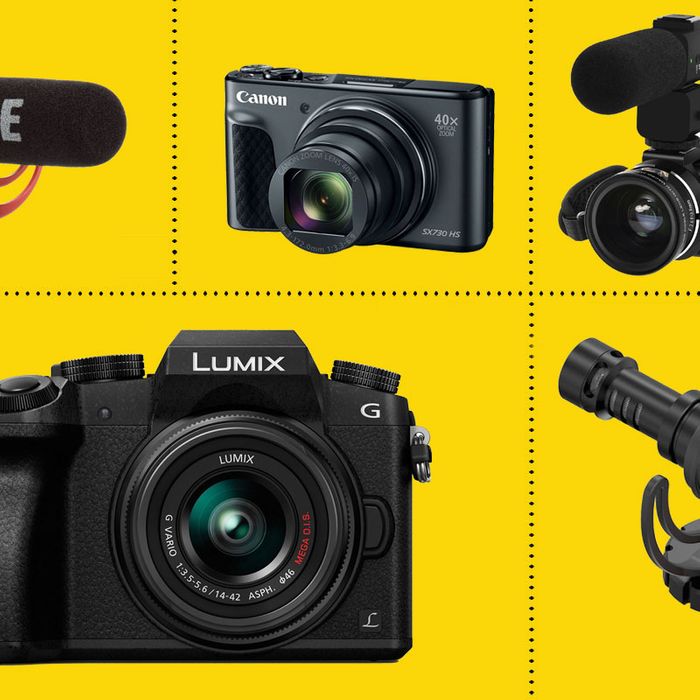 Looking for something to buy a YouTube-obsessed 12-year-old?
Earlier this month, I spent several hours standing outside on the streets of New York City in the cold with a line of hundreds of kids clamoring to get into a pop-up store. The host was Jake Paul, an infamous social-media star possibly best known for tormenting his California neighbors until they complained to the city to oust him. While we waited, I asked dozens of kids if they wanted to be vloggers like Paul, and if they already made YouTube videos. Lots of them said yes to both questions, but plenty of others — including a 9-year-old named Max — told me that they weren't vloggers yet. They were waiting, and hoping, to receive cameras and microphones for Christmas to jump-start their internet careers.
If you've got an aspiring YouTuber in your life, they're going to need some gear to get started. If you don't have an aspiring YouTuber on your shopping list this holiday season, but you do have a preteen you don't know what to get, vlogging gear seems like a pretty safe bet. I talked to a dozen or so kids who'd adamantly tell you so. If you really want to help said kid live the vlog life, they're going to need a decent camera and a decent microphone. Sure, if you've got a laptop with a built-in camera, they could just film entirely on that device, but the quality won't be great. Instead, hook them up with a decent digital camera with an input for a separate microphone for an ideal setup. Alternatively, a nice digital camera with a solid built-in microphone — we've recommended both below — is a good place to start, too.
If you're looking to buy a camera and a microphone …
This microphone mounts to the top of a camera for easing recording. (If you're not going with a camera we've recommended, just make sure to check that the camera you're buying or using has a mic input. Many don't.) Obviously, this works better for your more traditional, face-to-camera vlogging, rather than any sort of crazy-stunt situation.
A slightly smaller, slightly cheaper option for an external microphone.
A pricier camera that will allow your budding influencer to shoot in 4K HD. Think of this like buying a DSLR camera — in terms of photo and video quality — but without having to buy a big, bulky DSLR. You can mount a microphone to the top of the device for better audio.
If you're looking to buy just a camera …
A solid digital camera that will get you some decent bang for your buck. Plus, as an added bonus, you can always steal it from your kid to use for your own purposes when they're not creating sick videos. Heads-up: This camera has a built-in mic and no input for an additional one.
If you're looking for an easy, all-in-one device at the low end of the price range, this is your move. You get the camera and the external mic for under $200. A good starter setup.
Heads-up: If you buy stuff through our links, New York may earn a commission. That said, we don't recommend anything we wouldn't buy for ourselves.