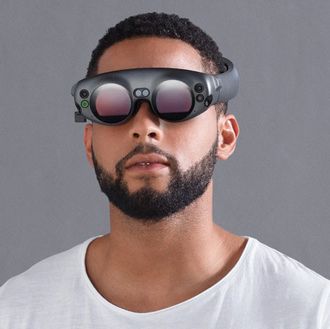 After years of listening to the hype surrounding start-up Magic Leap and its purportedly bananas mixed-reality technology, we're now one step closer to actually seeing what the fuss is about. One very, very small step. You still can't buy the device, or try it out in a store anywhere, but now … now, we've got pictures!
Magic Leap One is being called the "creator edition" of the company's tech. It consists of a pair of goggles, a.k.a. "lightwear"; a small, external computer pack, a.k.a. "lightpack," which clips to the wearer; and a handheld controller. Rolling Stone got to spend some time messing around with the device, including demos like "a science fiction world, playing out an entire scene that was, in this one case, augmented with powerful, hidden fans, building-shaking speakers and an array of computer-controlled, colorful lighting." The hardware, according to Magic Leap CEO Rony Abovitz, will come in two different goggle sizes and is expected to ship in 2018. No word on how much the thing will cost. (Worth noting that the company has made — and not come through on — shipping promises in the past.)
From Rolling Stone:
At another point, a wall in the room suddenly showed the outline of a door with bright white light shining through it. The door opened and a woman walked in.




She walked up to me, stopping a few feet away, to stand nearby. The level of detail was impressive, though I wouldn't mistake her for a real person, there was something about her luminescence, her design, that gave her away. While she didn't talk or react to what I was saying, she has the ability to. Instead, Miller had her on manual control, running her face through a series of emotions: smiling, angry, disgusted. I noticed that when I moved or looked around, her eyes tracked mine. The cameras inside the Lightwear was feeding her data so she could maintain eye contact. It was a little unnerving and I found myself breaking eye contact eventually, to avoid being rude.
The demos sound cool enough, but given Magic Leap's somewhat shady history with demos — remember that time it comically oversold what the company's tech was capable of — it's hard to get too excited just yet. (Though it is exciting to see product photos of a product that isn't totally massive, given previous reports that the company was struggling to create a smaller device capable of doing everything Magic Leap wanted. These goggles may look lame, but at least they seem portable.) We'll have to wait and see what's up when Magic Leap One is readily available. Until then, just know that one time Beyoncé demoed Magic Leap and was bored by it.