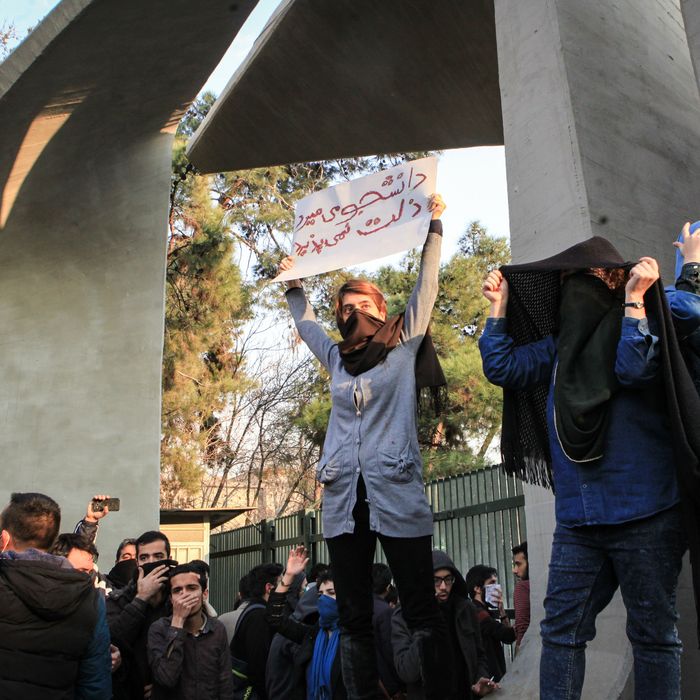 Iranian students protest at the University of Tehran during a demonstration driven by anger over economic problems. Students were outnumbered by counterdemonstrators, however, as videos on social media showed.
Photo: Stringer/AFP/Getty Images
Anti-government protests continued across multiple cities in Iran for a fourth day on Sunday, the most widespread unrest in the country since the pro-democracy Green Movement in 2009 — though nowhere near the same scale thus far. Two protesters were killed overnight Saturday, the first deaths attributed to the unrest. On Sunday, authorities reportedly blocked Instagram and the popular messaging app Telegram, which Iranians have been using to spread news about the protests. The country's powerful Revolutionary Guard has threatened a violent crackdown if the demonstrations continue.
President Hassan Rouhani, in remarks which were aired on state television on Sunday night, supported Iranians' right to protest and criticize the government, and indicated that some of the protesters had legitimate demands but that protests should not include violence or anti-regime slogans.
The unrest began with a protest in Iran's second-largest city, Mashhad, on Thursday, apparently led by hard-liners who wanted to voice their opposition to the reformist policies of President Rouhani. Protests don't always go as planned in Iran, however, since people sometimes take advantage of the rare opportunity to express dissent publicly, regardless of the original organizers' intentions. That seems to be what happened in Mashhad, as an anti-Rouhani protest morphed into a broader anti-regime one, decrying rising prices, corruption, and Iran's foreign-policy expenditures in places like Syria and Lebanon.
The protests, publicized on the popular messaging app Telegram and subsequently reported on by foreign-based satellite news networks, then quickly spread to other cities across the country on Friday, including Tehran, other major cities, and a surprising number of smaller cities that don't typically see such demonstrations. As the protests spread, many took on an even harsher anti-regime tone, with slogans calling for the downfall of the country's supreme leader and Islamic government. The seemingly spontaneous, often provincial, protests varied in size, with some resulting in violent clashes with police. Scores have reportedly been arrested throughout the country.
The apparently leaderless protests continued on Saturday, despite the government's warning against participating in "illegal gatherings." Violence was reported at rallies in several cities as police and plainclothes security officers continued to try to suppress the unrest. Two protesters were killed by gunfire in the western city of Dorud, but local officials denied that security forces were responsible for the deaths, characteristically blaming Sunni Muslim extremists and foreign powers instead.
Also on Saturday, pro-government protesters took to the streets in Tehran and other cities to participate in a preplanned celebration of the anniversary of the crackdown on the Green Movement. So far, there has not been a similar crackdown in response to this new outbreak, but that could change fast. One of the leaders of Iran's powerful Revolutionary Guard told state media on Saturday that protesters would face "the nation's iron fist" if the unrest continued, and internet access to Instagram and Telegram were blocked on Sunday in an attempt to cut off information about the protests.
Other reports indicate that the internet was also throttled in Tehran and cut off entirely in Mashhad.
Regardless, more protests were reported on Sunday:
As The Guardian and New York Times point out, small protests focused on economic issues are normal in Iran, but politically charged protests across the country where people feel safe chanting "death to the dictator" — a knock on Supreme Leader Ali Khamenei — are not. The protests will undoubtedly be an important test for the relatively moderate Rouhani, who has not been spared as a subject of chanting at the rallies; in his remarks on Sunday, Rouhani was clearly trying to walk a delicate line. There is also apparently suspicion among members of his administration and other reformers about what forces may be behind the unrest.
Some experts aren't surprised at the sudden wave of protests, however, noting the economic discontent created by the ongoing rise of the cost of living and the unemployment rate in the country.
The Trump administration, which has sought to undo President Obama's diplomatic progress with Iran and has even flirted with fantasies of promoting regime change, criticized Iran's government on Friday and urged it to allow the protests to continue. Calling for restraint against peaceful protests is the standard response to unrest in Iran from any administration, though this White House has added some Trumpian flare.
President Trump then revisited the subject in more tweets on Saturday afternoon and Sunday morning, but such support is probably more useful to the regime than it ever is to protesters, particularly since Trump has already made it easier for the regime to use the U.S. as a scapegoat for its internal problems by threatening to cancel the Iran nuclear deal and reimpose sanctions. Indeed, nothing Trump has done since taking office has indicated he or his administration has any real concern for the citizens of Iran.
(The Brookings Center's Suzanne Maloney has collected some ideas for how the U.S. could actually help the protesters and activists, including using its influence to keep channels of communication open for Iranians, helping to provide satellite internet access to the country, and ending the ban on Iranian citizens entering the U.S.)
Regarding what will happen next in Iran, most experts aren't sure, especially since this new movement, if that's what it is, does not appear to have any leaders to guide it. As The Wall Street Journal's Farnaz Fassihi points out, the lack of leadership, structure, and goals is exactly why previous uprisings have typically failed.
The Iranian government, as it has in the past, is working to block social-media platforms used by protesters, but there are still more ways than ever before for reports and videos about the protests — as well as any subsequent crackdown — to spread. In addition, if the regime cuts off or drastically slows down internet access as it did in 2009, that would likely have a much more dramatic effect on the country's businesses and citizens now that the internet is more widely used and relied upon.
And, as analyst Ali Reza Eshraghi reminded in a Twitter thread on Saturday, the Iranian regime has been afraid of public protests over economic malaise for decades, and while this new unrest comes nowhere near the magnitude of the 2009 Green Movement protests — which were in response to the likely fraudulent outcome of that year's presidential election — the new demonstrations also mark the first time that protests of this nature have occurred simultaneously throughout both provincial capitals and small towns. Bloomberg's Golnar Motevalli adds that "it's unclear what the overarching objective of the protests is, there is no clear, single concern that can be distilled like in 2009," but says she sees the motivation as "broad discontent over disparities in wealth, fairness of access to wealth, expectations on economic recovery not being realized and the country's approach to social rules and norms."
There has also been some tentative support for the protests from hard-liners, who seem to want the unrest to tarnish Rouhani, and that has caused some Iranians to worry the protests are being encouraged as a regime plot to draw out and capture opposition activists. Many anti-regime protesters faced long and brutal imprisonment after being arrested during the Green Movement, and a few hundred may have been killed.
As always, regime-change cheerleaders in the West should probably temper their expectations and refrain from projecting their views onto the protesters. But if the unrest continues, spreads, and increases in size — possibly prompting a violent crackdown by regime security forces — it could quickly lead to a new political crisis in the country at a time when it already faces a resurgent regional rival in Saudi Arabia and a U.S. administration that seems reflexively anti-Iran.
Maziar Bahari, the editor of IranWire and a former political prisoner in Iran, doesn't think the protests will topple the government but are still a sign of what eventually might:
Is it a revolution? Not yet. Iran's government is its own worst enemy and the Iranian people know it. Economic woes leading to infighting can bring down this corrupt and brutal system. Different factions within the government will, most probably, and just the same as always, choose to dismiss the genuine economic grievances of the Iranian people and blame the protests on foreign agents and an international imperialist-Zionist conspiracy.




The Iranian people have learned, after living almost 40 years under the Islamic Republic, to gradually and intelligently raise their voices in peaceful protests that will provoke the government to tear itself apart. Iran's rulers may choose to blame foreigners and Zionists — but they hardly realize that the true danger to their power is right at home.
Along similar lines, NIAC research director Reza Marashi, who worked in the Office of Iranian Affairs for the State Department under the Obama administration, adds that the current political climate in Iran does not appear conducive to massive change, but that the gap between state and society will remain — making protest waves like the present one possible — so long as the political, economic, and social aspirations of the Iranian people remain unmet.
This post has been updated throughout to reflect new developments and commentary.