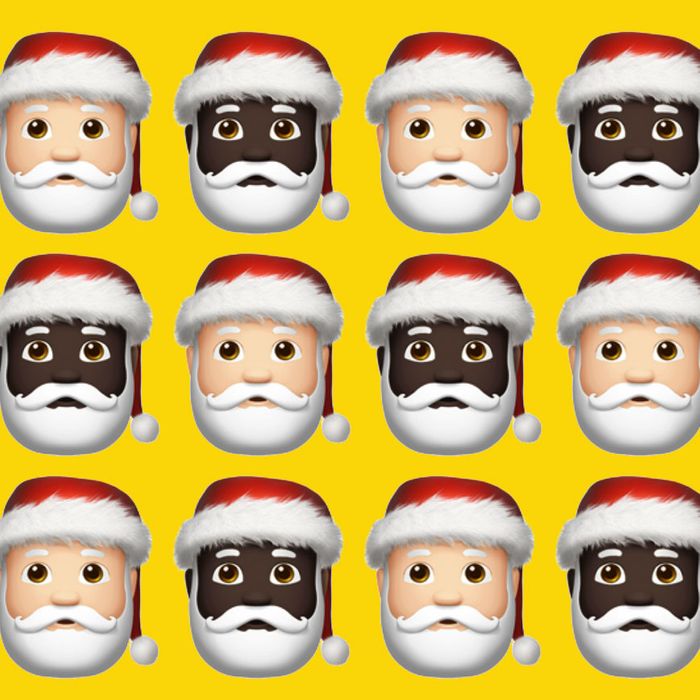 When the Unicode Consortium announced a few years ago that users would be able to modify preexisting emoji, and choose from a palette of skin-tone options, those humans who didn't themselves have Bart Simpson's complexion were relieved that the computer people who control so much of our lives had recognized this representation issue and done something about it. So, it became possible to choose your own shade of Santa, including black Santa, which — as long as you're going to believe in this weirdly compulsory Western consumer-culture myth — matters (the Mall of America finally hired its first black Santa last year). And yet, if you look at the iOS emoji black Santa — especially compared with content-looking emoji Caucasian Santa — something seems not so jolly. He seems, in fact, sad. His mouth, under the mustache, is definitely not smiling. There is something heavy — weary, even — in his brow.
When we brought it up to graphic-design guru Debbie Millman, she said, "I think this comes from a combination of the skin-color contrast, the mustache, the eyebrows, and the eyes. First, the skin contrast: There is more contrast in all the elements of black Santa's face. That's just plain old optical color theory at work. White hair next to white skin isn't seen as prominently as white hair next to black skin, etc. Next, look at Santa's eyes: I call this the 'Shih-Tzu effect.' Shih-Tzu's eyes look more human and emotional than most dogs because you can see more white around the pupils than in any other breed. The whites around black Santa's eyes are more pronounced (again because of contrast) and make him look more human and emotional. Next, the droopy eyebrows are much more pronounced on black Santa. That's just not fair. Finally, look at the mustache. Again, because black Santa has darker skin, his lighter facial hair has a lot more visual significance. So while the downturn on both white Santa and black Santa's mustaches are the same, because of that pesky contrast in black Santa, the downturn is MUCH more pronounced."
Or maybe emoji black Santa is just being honest. He's tired. He's been paying attention (remember, he keeps a list.) Even the defeat of Roy Moore didn't seem to do much to lift his spirits. So, at the very least, leave him some emoji cookies and emoji milk.