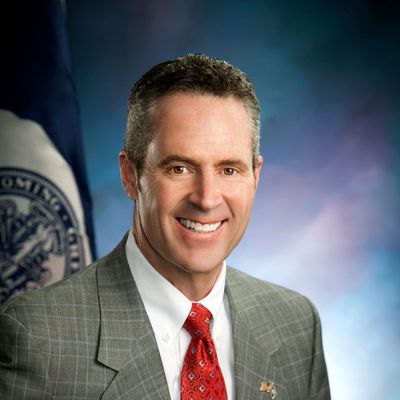 Ed Murray.
Photo: Wyoming Secretary of State's Office
When Ed Murray, Wyoming's secretary of state, was a young lawyer at a Cheyenne law firm he sexually assaulted a teenage intern, the woman claimed in a Facebook post this week.
A Republican weighing a run for governor, Murray denied the allegations, which he called "baseless" and "unequivocally false." In a statement released Thursday night, he said, "There is no basis to this falsehood whatsoever and it is deeply hurtful to me and to my family, as well as to everyone I serve."
Tatiana Maxwell says she was just out of high school when she met Murray, who's five years her senior. In a Facebook post detailing the alleged assault, Maxwell writes that Murray invited her to hang out after-hours at the law office one night. He made a pass at her and she rejected him, but Murray, she said, told her he couldn't resist. "Ed wrestled me down to the carpet in front of the receptionist desk, opened his pants, lifted up my blouse and ejaculated on my stomach," Maxwell writes.
She adds that Murray brought up the incident at their 10- and 20-year high-school reunions, both times apologizing but also suggesting that Maxwell was "irresistible and he couldn't control himself."
Maxwell writes that she had previously only told friends and her husband about Murray's assault. "It's hard to find the moment," she said in an interview with the Jackson Hole News & Guide. "That's why you maybe only share it with your closest friends. And it feels icky. All those uncomfortable traumatic feelings come back. So that's what makes it difficult."
Murray is considered a front-runner for the Republican nomination for governor in Wyoming despite winning his first election just three years ago. And though Maxwell is a frequent donor to Democratic causes, she now lives in Colorado and told the Casper Star Tribune that she didn't know Murray was considering higher office until reporters told her.
"It supersedes politics," she told the paper. "It's about human behavior. It's about right and wrong, and it's about standing up for women."