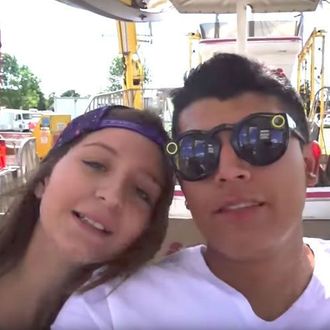 Monalisa Perez and Pedro Ruiz.
Photo: La MonaLisa/YouTube
Pedro Ruiz died in June due to complications sustained when his girlfriend, 20-year-old Monalisa Perez, shot him at close range. Ruiz, 22, and Perez were filming a stunt for a YouTube video; Ruiz was holding a hardcover book that the couple believed would be thick enough to stop a bullet from injuring him. Perez was 25 weeks pregnant at the time and charged with manslaughter. Today, the now-mother of two pleaded guilty in Minnesota for Ruiz's death.
Perez's plea agreement, the Star Tribune reports, dictates that she can't make any money off of the video of Ruiz's death, and she is permanently banned from owning a gun. She'll serve six months in jail in installments of 30 days per year over the next three years. After that, she'll be eligible — assuming she follows the terms of her ten-year probation — to serve the remaining 90 days of her sentence under home surveillance.
At the time of the shooting, Perez's YouTube channel had just over 300 followers and was focused on showing "the real life of a young couple who happen to be teen parents." There have been no new videos added to the channel since June. Perez also has not tweeted since late June. Her final tweet says she and Ruiz were about to attempt "one of the most dangerous videos ever" and that it wasn't her idea.