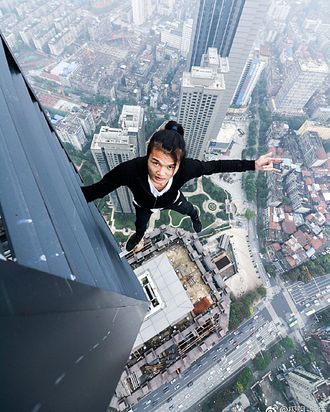 Wu Yongning.
Photo: Weibo
Wu Yongning died earlier this year doing what he was best known for — "rooftopping," or the practice of climbing atop very tall buildings and taking photos in precarious positions. The sport, if you could call it that, is certainly not for the faint of heart. Before his death Yongning's Weibo account was full of photos and videos of his many stunts. But the posts, the New York Times reports, stopped on November 8 when Yongning fell 62 stories off of the Huayuan Hua Center in Changsha, the capital of the Hunan Province in China.
Yongning reportedly climbed the building as part of a contest with a prize of $15,000. "He planned to propose to his girlfriend [the day after the challenge]," Wu's step-uncle, Feng Shengliang, told the South China Morning Post. "He needed the money for the wedding, and for medical treatment for his ailing mother." Instead, the attempted stunt would be his last. In a video — we're not going to link to it because it's incredibly unsettling — Yongning can be seen doing pull-ups off of the side of the building. He successfully completes two, but on the third, he begins to struggle until his loses his grip and falls.
Performing dangerous stunts in the name of viral fame and incredible aerial photos has become a trend in recent years. It's almost surprising — if fortunate — that we don't hear about more stunts gone terribly wrong. One can only tempt fate by hoverboarding on a skyscraper so many times. Earlier this year, a photographer in Chicago died after falling 20 stories during a shoot. Since Yongning's death, Chinese officials have asked people to stop livestreaming their stunts, and called for the streaming platforms to stop incentivizing users to attempt said stunts.