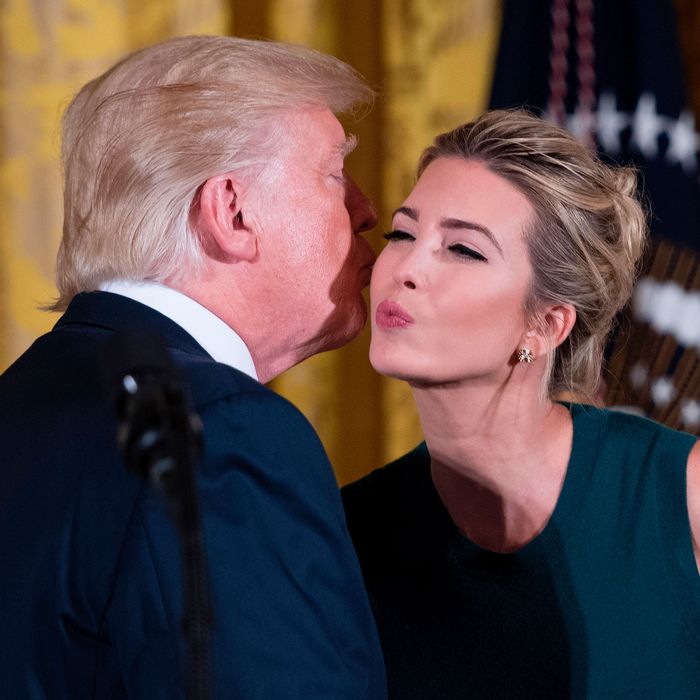 President Trump and his daughter Ivanka.
Photo: JIM WATSON/AFP/Getty Images
Tuesday night, Representative Joseph P. Kennedy II gave an effective Democratic response to the State of the Union address. Kennedy spoke eloquently about the Trump administration's divisive politics of turning Americans against each other, and the Democratic Party's commitment to social equality and economic security. What Kennedy did not mention, however, was the Trump administration's deep-rooted corruption, which is an odd omission, because there is quite a lot of it.
Donald Trump is a grifter who paid a massive fraud settlement shortly before assuming office. He has surrounded himself with like-minded grifters. His former national security adviser, Michael Flynn, was secretly collecting payments from a foreign government while advising the Trump transition team. The self-dealing has never stopped. Several new examples have popped up in the last day alone.
Politico reported yesterday that Brenda Fitzgerald, director of the Centers for Disease Control and Prevention, purchased stock in Merck & Co., Bayer, Humana, and a tobacco company after taking her post last June. Politico quoted numerous ethics watchdogs expressing opposition to the conflicts of interest she took on by buying stock in firms affected by her work. Fitzgerald resigned today.
Also today, the Washington Post reports that Health and Human Services Secretary Ben Carson's son, Ben Carson Jr., participated in his father's work in ways that may have benefited his son's businesses. The scandal would come as no surprise if you had read Alec MacGillis's report on HUD from last August. MacGillis found Carson Jr. constantly hanging around and networking HUD projects in ways that implied some relation to his own businesses. And sure enough, HUD staffers privately expressed concern that he was inviting clients or potential clients to HUD events and "gave the appearance that the Secretary may be using his position for his son's private gain."
A report yesterday found that Trump's infrastructure council is filled with business owners who stand to benefit from the policies Trump is advancing. For instance, Richard LeFrak, one of the developers on Trump's council, has lobbied against flood-risk regulations that Trump has eliminated. The plan writ large would steer public funding toward privately owned infrastructure projects that would benefit the developers on Trump's committee, as well as potentially members of his own family.
Meanwhile, the Palm Beach Post reports that Trump Realty is expanding its operations in southern Florida. The ongoing business by Trump's business empire is a massive corruption risk, as Trump and his family can benefit from the publicity conferred by his public office, and stand to benefit by anybody who wants to curry favor throwing business their way. The whole problem has faded into the background to the degree that revelations that once would have counted as first-tier presidential scandals — Jimmy Carter was forced to sell his peanut farm to avoid having any pro-peanut bias affect his policies — have disappeared. One of Trump Realty's agents tells the Post that she "is confident the recent tax law will further spur relocations from high-tax states in the Northeast to South Florida." This was not an exposé of a reporter discovering that Trump stands to benefit from his tax law. It was a casual boast by the business's manager to a journalist.
These stories are merely the news of the last 24 hours, a day in the life of self-dealing in the Trump administration. But the narrative is extremely significant. Trump's most politically potent message was his promise that he would no longer care about his own wealth. "My whole life I've been greedy, greedy, greedy," he would say. "I've grabbed all the money I could get. I'm so greedy. But now I want to be greedy for the United States." Trump was the outsider, the threat to entrenched elites, and an incorruptible man.
There is obviously a lot to criticize in this administration. Trump's bigotry, ignorance, and obvious lack of fitness for office have inspired Democratic activists to view him as an unprecedented threat. But from a political standpoint, his greatest liability may be more ordinary. Trump is a rich man whose policies have benefited himself and other rich people. He promised to raise his own taxes and shake up the status quo, but he has done the opposite. Does he have any greater vulnerability than that?