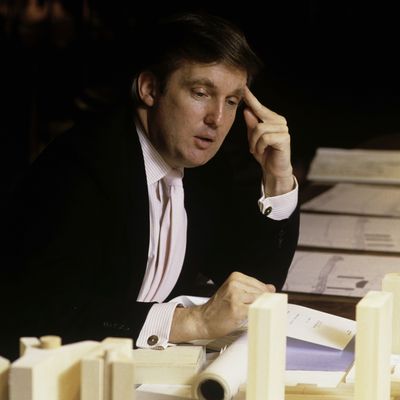 What should I not build first?
Photo: Joe McNally/Getty Images
In the last month, Trump administration officials began suggesting that they'd finally release a detailed infrastructure plan in mid-January, or at least before the State of the Union on January 30. This was a risky move, and not because anyone would be shocked if they blew past another deadline. For whatever reason, President Trump has spent the last year thwarting efforts to roll out one of his most popular proposals.
Sure enough, Trump was at it again on Friday; he reportedly knocked a key element of his administration's plan in private talks with congressional leaders, even as his aides continued to promote it. If the past is any indication, this month's planned pivot to infrastructure could yield a memorable Trump self-own, like the ones below (to say nothing of the continuing deterioration of our roads, railways, and bridges).
Promising a Plan in His First 100 Days, Then Failing to Produce One
Trump's "trillion-dollar rebuilding plan" was a key campaign proposal that he compared to FDR's New Deal in his book Crippled America. "If we do what we have to do correctly, we can create the biggest economic boom in this country since the New Deal when our vast infrastructure was first put into place," Trump wrote. "It's a no-brainer."
The third item on Trump's list of legislation he planned to pursue during his first 100 days in office was the American Energy and Infrastructure Act, which "leverages public-private partnerships, and private investments through tax incentives, to spur $1 trillion in infrastructure investment over ten years."
Trump called for such a bill in his first address to a joint session of Congress in February, receiving a standing ovation when he proclaimed, "The time has come for a new program of national rebuilding."
There was even talk of Democrats working with the new Republican president on this much-needed legislation … and then, nothing happened.
In May the much-hyped infrastructure plan was released as a six-page fact sheet packaged with Trump's 2018 budget proposal. White House officials suggested a more detailed plan was coming in the fall. Now they're supposedly putting the finishing touches on a 70-page document that would still only serve as the "building block" for a bill to be drafted by lawmakers. Trump squandered the initial enthusiasm for his plan, and now all signs suggest it would be DOA in Congress.
Scheduling "Infrastructure Week" Opposite Comey's Testimony
There was never any chance that a week of events promoting Trump's vague infrastructure proposal was going to distract from fired FBI director James Comey's testimony on Capitol Hill. But during the first week of June, which the White House dubbed "Infrastructure Week," it seemed like Trump was doing everything he could to draw attention away from his key policy proposal, from attacking the mayor of London following a terror attack:
To firing off a tweetstorm that undercut the legal case for his travel ban:
To letting his planned infrastructure pitch at a rally in Ohio devolve into what the New York Times called a "wandering assortment of self-defenses, attacks and non sequiturs that bumped into one another like untethered barges."
Defending White Supremacists During Another Infrastructure Pitch
One of the most appalling moments of Trump's presidency (so far) came during a press conference that was supposed to be about his plan to rebuild America. Though he made three requests for infrastructure questions, most of the questions the president answered in the lobby of Trump Tower on August 15 were about his incendiary comments on the violence at white-supremacist rallies in Charlottesville, Virginia, days earlier.
The most memorable line from the event had nothing to do with fixing our transit systems: "You have some very bad people in that group, but you also had people that were very fine people on both sides.
Disbanding His Infrastructure Council Before It Started
On July 19, Trump signed an executive order establishing a Presidential Advisory Council on Infrastructure. Before formally naming anyone to what was supposed to be a 15-member panel, Trump disbanded it on August 18.
In the wake of Trump's Charlottesville remarks business leaders had begun fleeing his Manufacturing Council and the Strategic and Policy Forum. He suggested he was canceling those panels to spare those who stuck with him:
No explanation was ever offered for the demise of the infrastructure council.
Privately Telling Democrats That He Doesn't Like Public-Private Partnerships
Since the campaign, Trump had been talking about using private-sector funding to finance rebuilding projects across the country. But in September a House Democrat revealed that Trump rejected the idea during a private meeting with the Ways and Means Committee.
Representative Brian Higgins said Trump "emphatically rejected what everybody assumed was his position relative to financing infrastructure," adding, "He dismissed it categorically and said it doesn't work."
It appeared the new idea might be to have state and local governments foot most of the bill — but if that was the case, Trump forgot to tell his staff. On the same day D.J. Gribbin, Trump's special assistant for infrastructure policy, spoke at the P3 Hub Americas conference, which promotes public-private partnerships.
Robert Poole, director of transportation policy at the Reason Foundation, told the Washington Examiner that he was dismayed by Trump's shift. "It's so frustrating someone would make off-the-cuff comments like that about P3s," Poole said. "I can't imagine that he was coordinating with his staff. The whole reason Gribbin was hired was to do P3s. That has been his specialty for the last 20 years both in government and out of it. It's very strange."
Privately Telling Republicans That He Doesn't Like Public-Private Partnerships
Though Trump's newfound dislike of public-private partnerships was widely reported in September, he didn't direct his staff to change course. The Washington Post reported that on Friday he told Republican leaders gathered for a strategy session at Camp David that he doesn't think the arrangements work, and the government should probably pursue a different path. The next day Gary Cohn, his chief economic adviser, gave the group a detailed briefing on an infrastructure proposal that relied heavily on public-private partnerships.
According to the Post, Trump's complaints have "infuriated and surprised some administration aides who have worked on the plans for months." Unsurprisingly, the timetable for the rollout of the infrastructure plan "remains fluid."