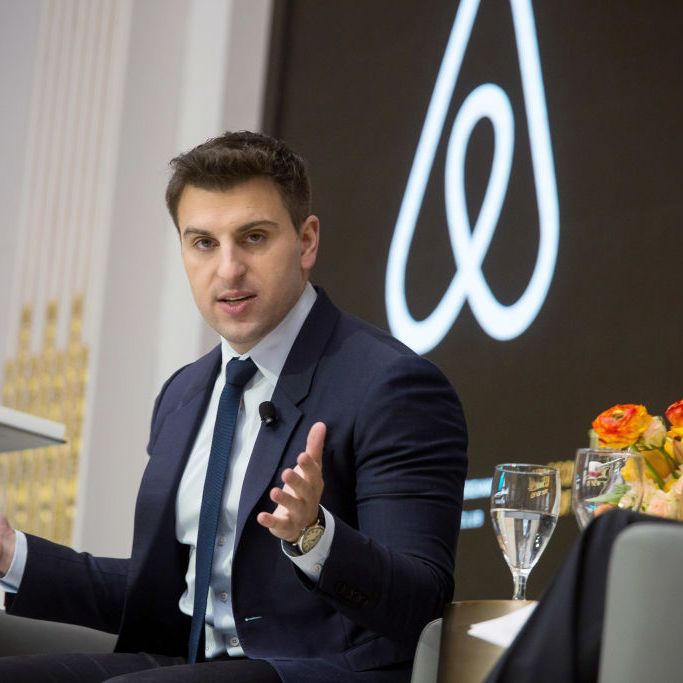 Brian Chesky, CEO and co-founder of Airbnb, speaks during an Economic Club of New York luncheon.
Photo: Michael Nagle/Bloomberg via Getty Images
Last summer, two friends from out of town visited. They got an Airbnb in a luxe apartment at 52nd and Tenth Avenue with stunning views, but a surprisingly spare and utilitarian decorating scheme — as if someone had shopped at Ikea while slightly stoned and just said yes to whatever caught their eye. After a night out, we headed up to the rooftop, open to use by tenants. It was soon clear that many of the people on the rooftop were also from out of town, and also renting an apartment from Airbnb. At least part of the building was operating as a "ghost hotel" — a building where a significant number of the apartments are used exclusively to rent to people on Airbnb or similar services.
Airbnb and the city of New York have been at each other's throats for years now. NYC says Airbnb facilitates illegal activity: It's against New York State law to rent out your apartment for less than 30 days at a time unless you are present, and the New York City Building Code would require most Airbnb hosts to apply to reclassify apartments from long-term housing to being zoned as a hotel. Airbnb has fired back, saying it's providing a way for New Yorkers to make money in a city where it's increasingly hard to pay the rent.
A new study out today, "The High Cost of Short-term Rentals in New York City," is filled with pretty damning stats about the effect Airbnb and services like it have had on the city. (The study comes from Share Better, an organization bankrolled by the hotel industry and the AFL-CIO, a union with a significant number of members who work in hotels in New York City, as well as smaller individuals and organizations. So, grain of salt.)
For you, the average reader, it's probably the finding that Airbnb has increased the median rent in NYC by $380 that'll stick most in your craw. The rent, as we know, is too damn high. In addition, Airbnb rentals have removed somewhere between 7,000 and 13,500 units of housing from the market, mainly in midtown and lower Manhattan and the pricier parts of Brooklyn, during a time when the city is experiencing a severe housing shortage. But the more-damning stuff for Airbnb comes thanks to the study's dive into the world of "professional" Airbnb hosts — people or organizations that rent multiple entire-unit dwellings like the ghost hotel my friends stayed at.
While the majority of hosts on Airbnb are likely what you envision when you think about Airbnb — someone with a decent apartment who travels or needs to make a little extra cash — the reality is that half of the rentals in New York City on Airbnb are being listed by just 10 percent of hosts. Put another way, the majority of hosts on Airbnb are legit, noncommercial operators, but they rarely list their apartments and don't make that much money doing it. The majority of activity on Airbnb is conducted by "commercial operators," which the study broadly defines as anyone on Airbnb who has multiple listings up. (How many people do you know with two or more apartments who are always away on business? Exactly.)
However, those listing multiple entire-unit apartments are starting to wise up. Instead of renting out multiple entire-unit apartments, they've begun to subdivide these apartments into "private rooms" and then rent those out. Think less "ghost hotel" and more "ghost hostel." This may simply be more profitable — more inventory with more flexibility means more revenue — or it may be a way to avoid detection as New York City begins to increasingly try to enforce its housing code against Airbnb operators.
The study also looks at the effects of Airbnb on gentrification in New York, focusing on two neighborhoods that should be familiar to anyone who follows the debate around a rapidly changing city: Bedford-Stuyvesant and East New York, both in Brooklyn and both historically black neighborhoods. Both are experiencing growth in Airbnb listings that far outpaces the rest of the city, and both are also experiencing median rent hikes that outpace the rest of the city. The study cites the work of Murray Cox, who found that those earning from Airbnb in these neighborhoods were likely to be white. Minority residents suffer from increased rent prices, while white Airbnb operators reap the revenue.
Likewise, the revenue earned by Airbnb hosts isn't evenly distributed. The study estimates that there were about 50,500 hosts who earned income from Airbnb in New York City last year, bringing in a total of $660 million. But the top 10 percent of revenue makers on Airbnb earned half that revenue, about $316 million, and the top one percent of all earners on Airbnb took home 12 percent of the total earnings, or $76 million.
In other words, there are New Yorkers making decent money on Airbnb — there just aren't that many of them.