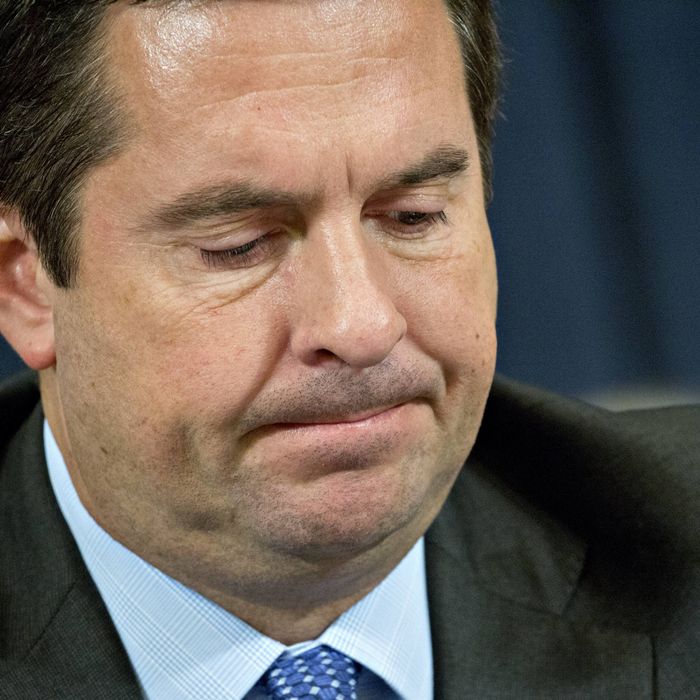 Devin Nunes's theory just got a lot more complicated.
Photo: Andrew Harrer
As Washington burns with anticipation of the disclosure of the shadowy, conspiracy-theory-based Nunes memo apparently alleging the existence of an FBI cabal that invented the whole Russia scandal, one of the central figures in said cabal turns out to have helped James Comey write the letter to Congress that may have cost Hillary Clinton the presidential election.
That's right: FBI agent Peter Strzok, whose text messages (some with an FBI lawyer with whom he was having an extramarital affair) suggesting the Bureau might want to lean against Donald Trump are apparently central to the Nunes memo, had a direct role in the Comey letter, according to a new report from CNN:
Strzok, who co-wrote what appears to be the first draft that formed the basis of the letter Comey sent to Congress, also supported reopening the Clinton investigation once the emails were discovered on disgraced former Rep. Anthony Weiner's laptop, according to a source familiar with Strzok's thinking. The day after Strzok sent his draft to his colleagues, Comey released the letter to Congress, reigniting the email controversy in the final days of the campaign.
This creates a bit of a credibility problem for the GOP's conspiracy theory, particularly since the report indicates Strzok was aware of the potential impact of the Comey letter. If he was a deep-state liberal who went to bed with a photo of Hillary Clinton under his pillow, would he really have cooperated in an act so obviously damaging to her candidacy?
I suppose you could try to build a case that this obscure law-enforcement bureaucrat was in fact the central figure in the 2016 presidential election and its aftermath, first helping tilt the election to Trump and then trying to make up for it by inventing tales of Russian collusion as a sort of karmic payback to Trump's enemies, all the while manipulating his superiors and outfoxing everyone else. At some point, though, the whole Nunes memo narrative may begin to implode from the pressure of its implausibility.