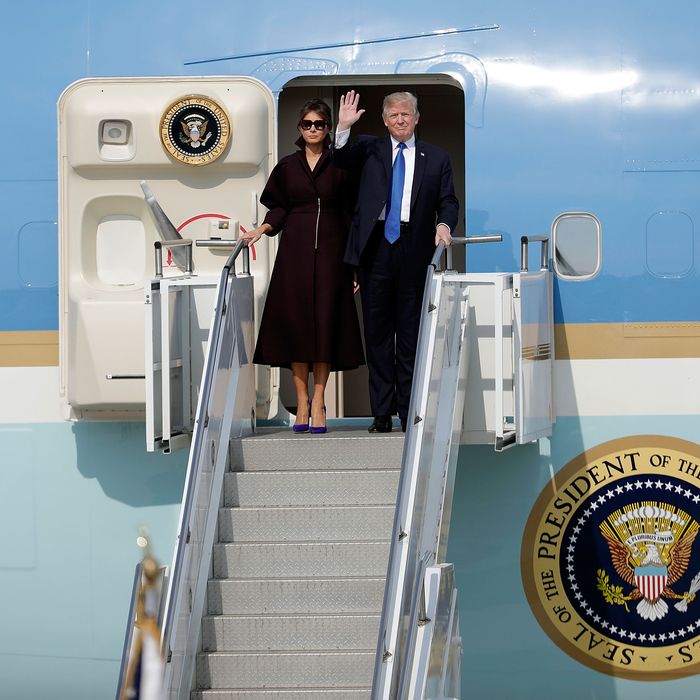 Cool your jet.
Photo: Woohae Cho/Getty Images
Air Force One needs two new refrigerators and they won't come cheap.
The Defense Department has awarded a $23,657,671 contract to Boeing in order to design, test, and install new "chillers" in the customized 747 jumbo jet.
That jumbo price tag is for more than a few Maytags. As Defense One explains, the refrigerators on Air Force One are required to hold enough food — around 3,000 meals in total — to feed passengers and crew for weeks without resupplying, just in case World War III breaks out. And in recent years, some of refrigerators have been failing.
"Although serviced on a regular basis, reliability has decreased with failures increasing, especially in hot/humid environments," Air Force spokesman Ann Stefanek told Defense One. "The units are unable to effectively support mission requirements for food storage."
The size of the refrigerators is only part of the reason they cost so much. The need to custom build a system unique to Air Force One adds to the price too, as do environmental tests and necessary FAA certification.
President Trump has been fiercely critical of the cost associated with Air Force One in the past, criticizing Boeing in 2016 for "doing a little bit of a number" on the American taxpayer.