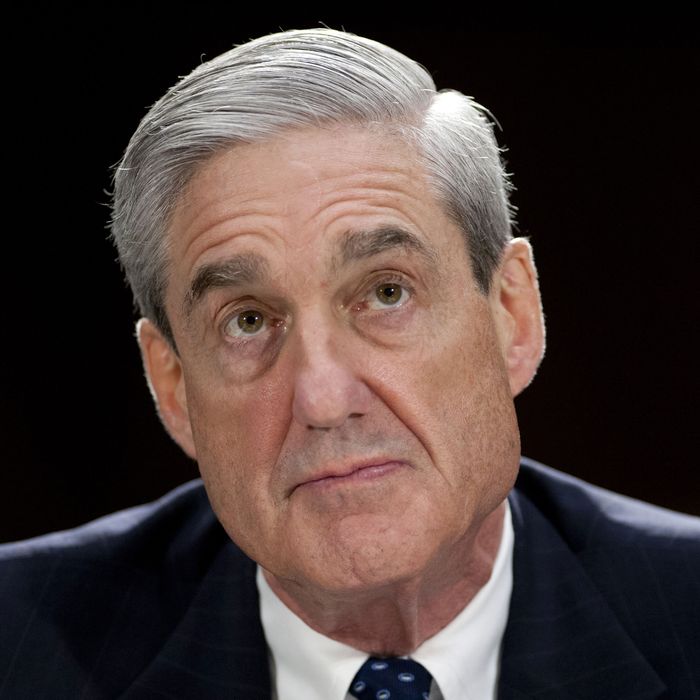 Even I can't keep up.
Photo: Saul Loeb/AFP/Getty Images
Last week, Ty Cobb, President Trump's lawyer, claimed that Special Counsel Robert Mueller's investigation would be wrapped up in a matter of weeks. This should not be taken seriously because Cobb keeps making unrealistic predictions and then changing his deadline. But even if that were not the case, this week's reports have shown there's still far more to learn about the Trump campaign's possible ties to Russia. Tuesday was particularly busy, with new reports on everything from Trump's ongoing attacks on the independence of the FBI to Mueller's next steps. Here's what we've learned.
The Saturday Night Massacre That Wasn't
On Monday, Axios and the Washington Post reported that Attorney General Jeff Sessions has been pressuring FBI director Christopher Wray to fire deputy director Andrew McCabe. Wray refused, and Axios says he even threatened to resign if McCabe was removed.
The initial White House statement seemed to suggest that Wray should prove he's unbiased by purging the top ranks of the FBI, referring to Trump's belief that "politically motivated senior leaders," including Comey and his aides, have "tainted" the agency. However, on Tuesday, Trump denied that Wray threatened to quit. "He didn't at all," Trump said. "He did not even a little bit. Nope. He's going to do a good job."
Trump Inquired About McCabe's Loyalty, Too
The Post shed more light on Trump's grudge against McCabe on Tuesday, reporting that during an Oval Office meeting in the days after FBI director James Comey's firing, Trump asked his new acting FBI director whom he voted for. McCabe managed to stay neutral — he said he didn't vote — but Trump found another reason to criticize his partisanship: His wife ran for Virginia State Senate as a Democrat. Her ultimately unsuccessful campaign received nearly $500,000 from a political action committee run by Virginia governor Terry McAuliffe, who's close to the Clintons. (That isn't currently a crime, but in the future, who knows?)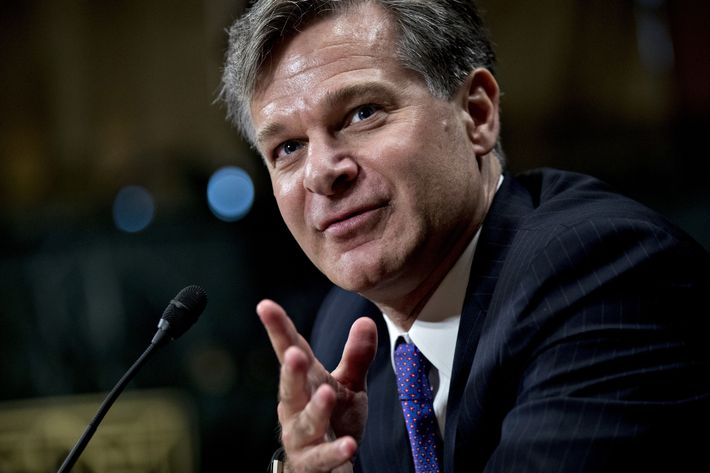 Wray Cleans House Anyway
Despite reports that Wray isn't taking staffing suggestions from the White House, he is making some personnel changes at the top of the FBI. He confirmed on Tuesday that his chief of staff James Rybicki is taking a job in the private sector, and there are reports that Dana Boente will be the FBI's next general counsel. (You might remember the longtime federal prosecutor from another Trump scandal: replacing Acting Attorney General Sally Yates when Yates was fired for refusing to defend the travel ban.) Also, McCabe is expected to retire in March, so Trump officials probably don't need to bully his boss into firing him.
Sessions Talks With Mueller
We learned on Tuesday that Sessions was interviewed by Mueller's team for several hours last week, making him the first Trump cabinet member to talk with the special counsel. Though Sessions recused himself from the FBI's Russia probe, sparking Mueller's appointment and Trump's anger, he was involved in numerous incidents of interest to the special counsel: meeting with Russia's ambassador to the U.S. while advising the Trump campaign, denying any such meeting when questioned by Congress, and writing a letter recommending Comey's dismissal, just to name a few.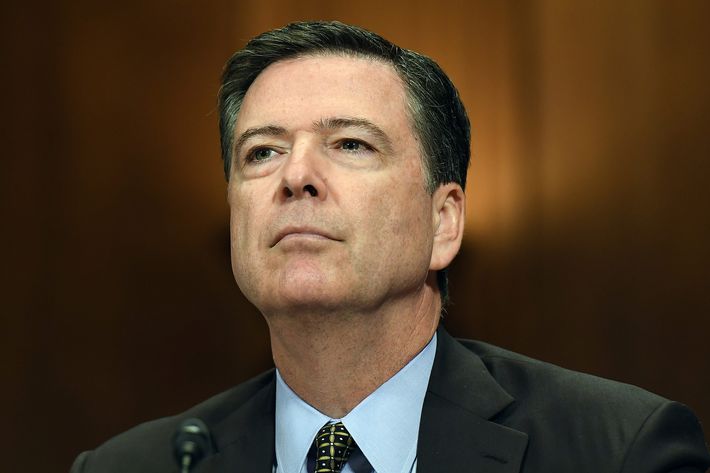 Comey Talked With Mueller, Too
Mueller's team has been doing a lot of digging into the events that led to its existence. According to the New York Times, Comey met with Mueller's investigators late last year to discuss the memos he wrote about his private conversations with Trump. Comey described Trump asking for his loyalty, and urging him to end the FBI's investigation into former national security adviser Michael Flynn.
Mueller Wants to Talk With Trump
It's obvious that Mueller would want to interview Trump himself, and the president's attorneys are reportedly preparing to present the special counsel with the terms under which they would allow that to happen as soon as next week. According to the Post, they're pushing for a hybrid of written statements and face-to-face testimony.
Sources revealed on Tuesday that Mueller is particularly interested in questioning Trump about the firings of Flynn and Comey, suggesting he's looking at whether the president might have tried to impede the Russia probe.
Is Another Witness Preparing to Flip?
Former Trump campaign aide Rick Gates, who was indicted along with his longtime business partner Paul Manafort in October, has added prominent attorney Tom Green to his defense team. CNN notes Green was spotted at Mueller's office twice last week, and explains why that might signal that Gates is open to changing his not-guilty plea:
Green's involvement suggests that there is an ongoing negotiation between the defendant's team and the prosecutors. At this stage, with Gates' charges filed and bail set, talks could concern the charges and Gates' plea. The defense and prosecution are currently working together on discovery of evidence.
FBI Agent Peter Strzok Assumed Trump Was Innocent, and for Some Reason This Is Bad
As you'll recall, FBI agent Peter Strzok was dismissed from Mueller's team last summer after the special counsel learned he expressed anti-Trump sentiments in texts to FBI attorney Lisa Page, with whom he was having an affair. Republicans were already pointing to their private expressions of disdain for Trump and commitment to the FBI's independence as proof that Mueller's probe is hopelessly biased; then, over the weekend, Republican senator Ron Johnson revealed that the FBI didn't retain their texts for the five-month period leading up to Mueller's appointment.
As the right hyperventilated over a new batch of missing documents, Johnson made more of the preserved texts public. Some reveal that Strzok deliberated over whether he should join the Mueller investigation into Trump because he didn't think they would find anything.
There Is an Anti-Trump "Secret Society" in DOJ — or Maybe It's a Joke
We still haven't #ReleasedTheMemo and there's already a hot new conspiracy theory on the right. Monday on Fox News, representatives Trey Gowdy and John Ratcliffe suggested that based on Strzok and Page's texts, they may have been in an anti-Trump "secret society" within the Justice Department.
"The day after the election, what they really didn't want to have happen, there is a text exchange between these two FBI agents, these supposed to be fact-centric FBI agents saying, 'Perhaps this is the first meeting of the secret society,'" Gowdy said.
That text has not been released, and the representatives offered no context that may explain whether it was a joke or actual proof of an anti-Trump conspiracy. Tuesday on Fox News, Senator Johnson claimed an "informant" has talked about "secret meetings off-site" of the Justice Department — but of course he couldn't offer any further details.
Nobody Cares About the Russia Story, According to the White House
When asked at Tuesday's briefing why Trump doesn't just fire Mueller and end the alleged "witch hunt," Sarah Huckabee Sanders suggested it's because the press would have a meltdown. "I think we all know what everybody in this room would do if the president did that, and I don't think that's helpful to the process," she said.
She added that Trump wants Russia investigators to "finally come to the same conclusion that I think most everyone in America has — that there is nothing to this. They've spent the better part — most of you have spent the better part of a year looking, digging, obsessing over trying to find something and have yet to find anything."
Well, nothing except for rampant corruption within the FBI and a secret society of Trump haters.