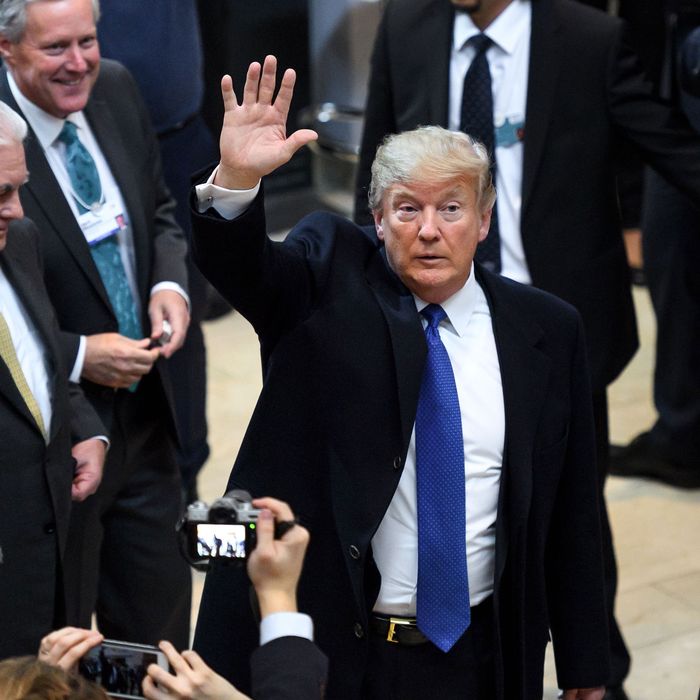 Who suddenly likes trade deals?
Photo: Fabrice Coffrini/AFP/Getty Images
The globalists are rubbing off on President Trump.
In Davos for the World Economic Forum on Thursday, the protectionist president signaled a willingness to rethink his opposition to NAFTA and the Trans-Pacific Partnership, two trade pacts that he has loudly opposed both as a candidate and president.
On NAFTA, which the U.S., Canada, and Mexico are currently trying to modernize, Trump told CNBC that there's "a good chance" the deal is renegotiated. But he also said, "I may terminate NAFTA, I may not. We'll see what happens."
Still, giving NAFTA a "good chance" of survival is more optimistic than Trump has previously been about the deal, which he threatened to tear up during the campaign.
On TPP, Trump gave CNBC what he called a "big story," saying he's open to "a substantially better" version of the pact. "The deal was terrible, the way it was structured was terrible. If we did a substantially better deal, I would be open to TPP," he said.
As a candidate, Trump said TPP was a "disaster" pushed by "special interests who want to rape our country." Once in office, he pulled the U.S. from the pact on his first Monday on the job. "Great thing for the American worker, what we just did," Trump said upon signing an executive order to pull out of the deal.
But Trump's change of heart may be coming too late. The 11 nations that the U.S. left behind when it pulled out of TPP have reached a new deal to replace it. The Comprehensive and Progressive Agreement for Trans-Pacific Partnership is expected to be finalized in early March.