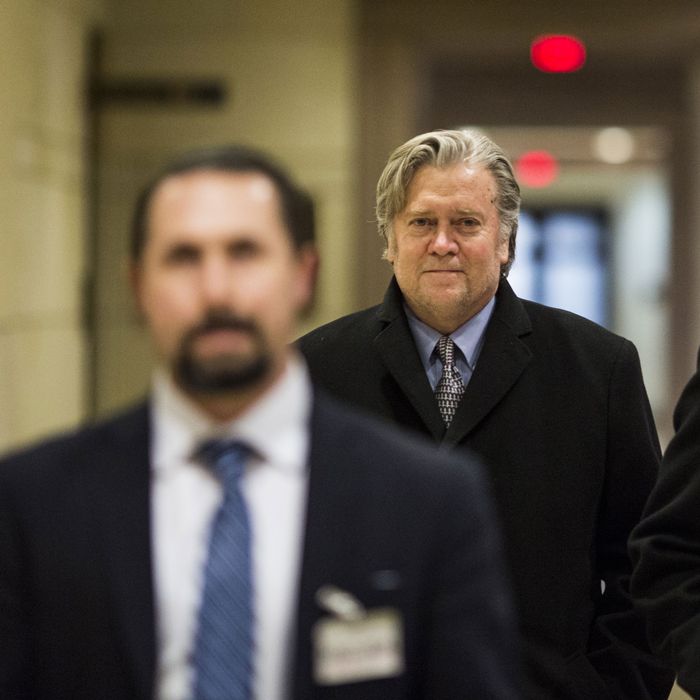 Steve Bannon leaves after testifying before the House Intelligence Committee.
Photo: Zach Gibson/Bloomberg via Getty Images
On Tuesday night, House Intelligence Committee ranking Democrat Adam Schiff accused the White House of putting a "gag order" on former Trump adviser Steve Bannon after he stonewalled lawmakers during a ten-hour interview. Bannon refused to answer questions about his time with Trump's transition team, his tenure in the White House, and even his dealings with Trump since his firing.
Now a new AP report sheds light on the extent of that so-called gag order. Bannon's lawyer, the AP reports, was in constant contact with the White House during the interview in an attempt to find out which questions Bannon should answer and which he should avoid.
As lawmakers probed Bannon's time working for President Donald Trump, Bannon's attorney Bill Burck was asking the White House counsel's office by phone during the Tuesday session whether his client could answer the questions. He was told by that office not to discuss his work on the transition or in the White House.
It's not known who was on the other end of the phone with Burck, but he does have an existing relationship with White House counsel Don McGahn, whom Burck is representing in Robert Mueller's investigation of Russian meddling in the 2016 presidential election.
It was clear by Tuesday night that Bannon had invoked a "remarkably broad definition of executive privilege," as one congressman put it, during the interview. The AP report adds the tantalizing nugget that his lawyers were relaying the questions in real time to the White House.
That's not improper, former federal prosecutor Renato Mariotti told Business Insider. "His attorney did not need to be as vigilant as he was in ensuring that he was complying with the White House's request — there is nothing legally Trump could do to Bannon if he ignored it." But it is revelatory, as it shows that even after the fallout over Fire and Fury, "Bannon is very much on Trump's team," Mariotti said.