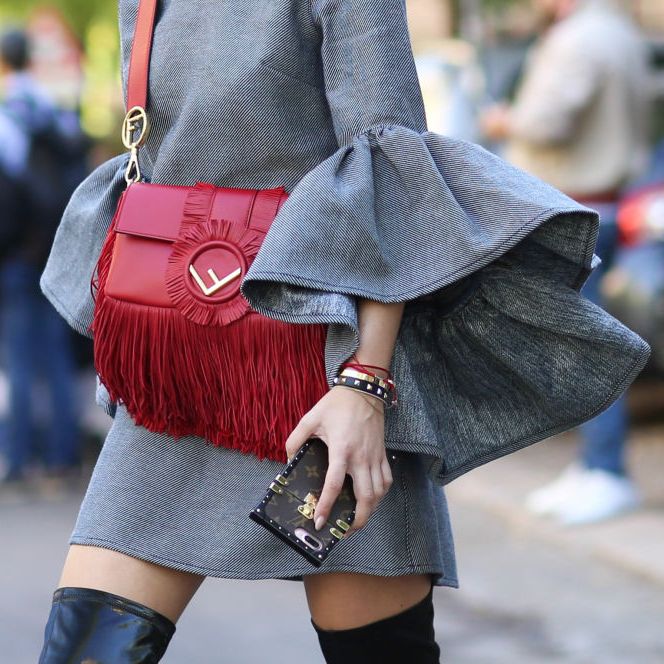 A woman wearing a Fendi bag and a Louis Vuitton iPhone Case on the streets of Milan, Italy.
Photo: Jeremy Moeller/Getty Images
The fallout from Apple's Batterygate continues.
After a French federal regulatory department said it would look into charges that Apple purposefully made its phones slower as its lithium-ion batteries naturally degraded in an effort to get consumers to buy new phones, Italy is now joining the fray — and Samsung is getting dragged into the mix.
Per Reuters, Italy's Autorità Garante della Concorrenza e del Mercato (AGCM) claims that both companies executed "a general commercial policy taking advantage of the lack of certain components to curb the performance times of their products and induce customers to buy new versions." If true, this would amount to planned obsolescence and be in direct violation of Italian consumer-protection laws. If found guilty, it would cost both companies millions of euros in fines.
In general, European countries have much stronger consumer-protection laws than the U.S., so odds are good that more of these planned-obsolescence investigations may be coming from other EU countries. The issue isn't really whether Apple (or Samsung) was trying to force consumers over to new phones — it's how much are they willing to fight the charges, versus just paying the fines, and going on about their business. Apple and other tech companies have deep pockets, and while consumers have long suspected that their phones were intentionally being slowed to force them to upgrade, brand loyalty — especially to the iPhone — remains as high as ever.
Apple (and other smartphone manufacturers) will need to move fast to show why slowing down phones with aging batteries wasn't a move to make consumers buy new phones, but instead tech solution to extend the working life of the phone dealing with the real issue that lithium-ion batteries hold less of a charge as they age. At this point, that will be an uphill battle.