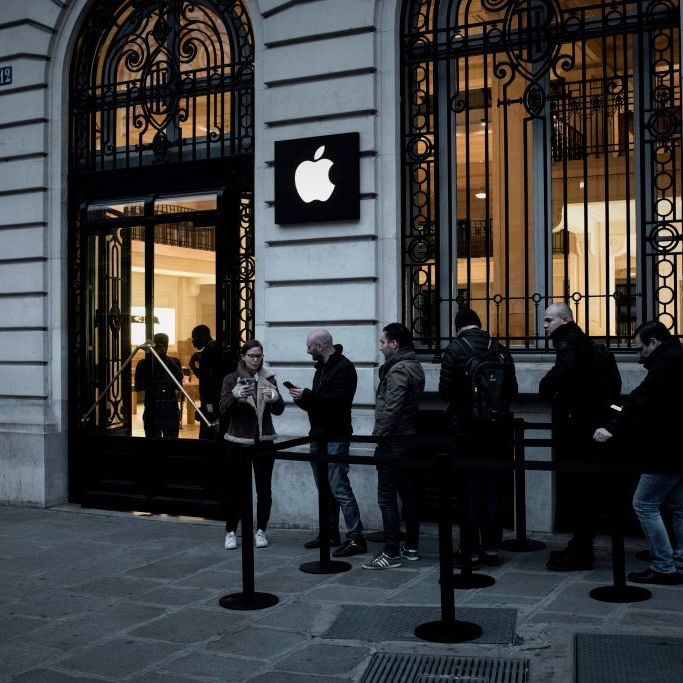 Customers line up to buy the iPhone X in Paris, France.
Photo: AFP Contributor/AFP/Getty Images
After a lawsuit by a French consumer-watchdog group in late December, prosecutors in France announced on Monday that they're opening an investigation into whether Apple intentionally slowed down older iPhones in an attempt to force consumers to buy new ones, a practice commonly known as "planned obsolescence."
The original lawsuit centers on how Apple handled the degradation of older phone's batteries. Lithium-ion batteries, used in nearly every smartphone on the market, degrade over time, losing their ability hold as much of a charge. Starting with iOS 10.2.1, Apple began to slow down the CPU on phones with aging batteries in an attempt to have the phones last longer.
In a statement released on December 28, Apple said:
We know that some of you feel Apple has let you down. We apologize. There's been a lot of misunderstanding about this issue, so we would like to clarify and let you know about some changes we're making.




First and foremost, we have never — and would never — do anything to intentionally shorten the life of any Apple product, or degrade the user experience to drive customer upgrades. Our goal has always been to create products that our customers love, and making iPhones last as long as possible is an important part of that.
The original lawsuit was brought association Stop Planned Obsolescence (HOP, or Halte à l'Obsolescence Programmée), shortly after news about the battery slowdown began to break in the mainstream press. Now the DGCCRF (or the Directorate General for Competition, Consumer Affairs and Repression of Fraud), part of the Economic Ministry, has begun a formal investigation. The work will likely take months, with the results given over to a French judge for further review.
France has particularly strong consumer-protection laws, thanks to legislation known as "Hamon's Law." Planned obsolescence was declared illegal in France in 2015, carrying the penalty of up to two years in jail and fines equal to 5 percent of total revenue. Since Apple doesn't break out its smartphone revenue by individual company, it's unclear just how much 5 percent of its revenue from French iPhone sales would be, but with the iPhone being the most popular smartphone in the world, it's safe to say it would be a significant sum.