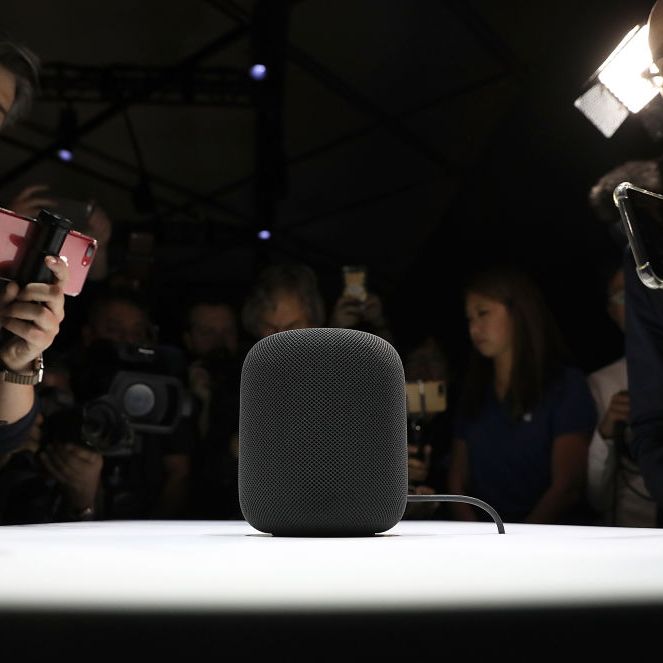 The Apple HomePod.
Photo: Justin Sullivan/Getty Images
After months of delays, Apple's HomePod smart speakers are likely about to hit store shelves, after missing the holiday 2017 season and remaining in limbo since having been announced in the summer of 2017 at Apple's WWDC conference. Formal FCC certification, some updates in an upcoming version of iOS, and reports that HomePods were being shipped to retail outlets hit the web this weekend, confirming that that the HomePod will likely be on sale some time in February or early March.
The HomePod will occupy a unique space in the crowded home smart-speaker market. While the two dominant players, Amazon and Google, have priced their speakers relatively low: an Amazon Echo is $100; a Google Home is $130. The HomePod, meannwhile, will be priced at $350. There are a few high-end smart speakers in that price range — notably, Google's high-end $400 Google Home Max speakers, which I've used and come to appreciate for their audio quality.
Apple has stumbled in its attempt to enter the home market already. The Apple TV, Cupertino's attempt to shift from making "cool computers" to "household appliances," has struggled — current estimates show the Apple TV losing market share, with just 15 percent of the market, compared to 37 percent for Roku and 24 percent for Amazon's Fire TV service.
Still, the Apple TV's struggles were more about internal jockeying within Apple and issues with other content providers. What makes the Apple HomePod more important for Apple is that people who already use smart speakers could be using them to replace Apple's core product, the smartphone. A recent survey from NPR and Edison Research found that besides traditional AM/FM radio, the product being replaced the most by users of smart speakers is the smartphone: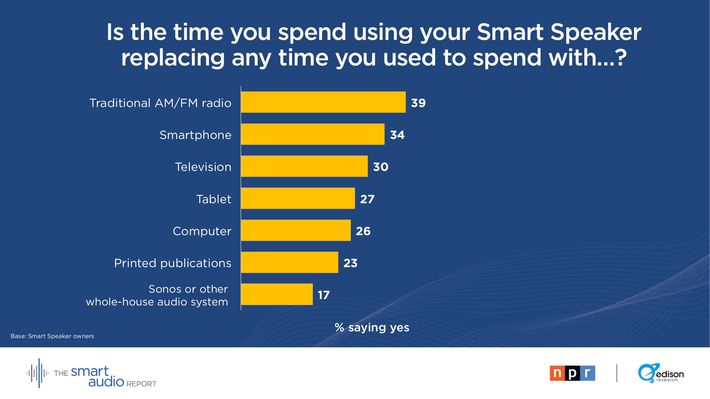 All of these smart speakers — many of which are being sold at just break-even prices — should be seen for what they are: toeholds in the future many in the tech industry still believe is coming, smart homes filled with internet-connected devices. (The reality of that vision remains uncertain, since there is a wildly fragmented market and a consumer base that, outside of early adopters, seems largely leery of adding in new devices.)
Apple is currently downplaying its ambitions to run the smart home of the future — its presentation last year mainly focused on the audio quality of the HomePod, and its ability to sense where it was in a room in order to deliver the best sound. But behind the scenes, it's been quietly pressing both journalists and manufacturers to cover HomeKit, its smart-home OS, and the HomePod would be the linchpin in making HomeKit a real player in the space.
If and when a majority or even a substantial portions of homes have enough stuff networked together, you'd need an operating system of some sort to run everything. Right now, Amazon's Alexa seems to be the winner by default, with the Google Home eager to take up the top spot if Alexa should stumble. But Microsoft has made its own entry into smart speakers, Facebook is rumored to be considering the space, and Roku is licensing its voice assistant OS and reportedly building its own smart speaker.
Apple has never been afraid to be late to a market — it didn't create the first MP3 player, or smartphone, or tablet, but came to embody all three of those devices. It'll be fascinating to see if Apple's late entry with the HomePod is able to stand up to preexisting competitors, and how many people end up wanting to talk to it.