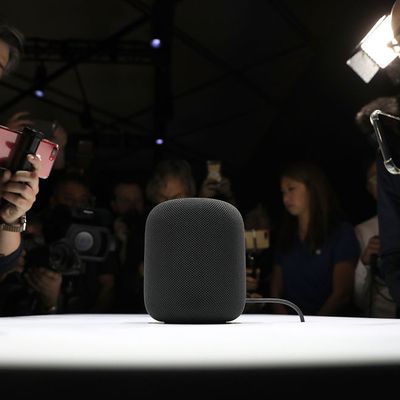 Photo: Justin Sullivan/Getty Images
The delays behind Apple's HomePod smart speakers are over: Apple has officially announced when consumers can expect to get them. They'll be available here in the U.S., the U.K., and Australia on February 9, and be available for preorder on Friday, January 26. They'll retail for $349.
Apple has announced that the HomePod won't ship with every feature ready to go — stereo sound and multiroom support for those who want to buy multiple HomePods won't be supported at launch.
While the HomePod may cost more than most of the competition — an Amazon Echo runs $99, and the Google Home ships for $129 — Apple is promising a premium sound, aided by an onboard AI that determines where the speaker is placed in the room and adjusts the acoustics on the fly to deliver the best playback possible. It also boasts a bit more privacy than other home speakers — Apple promises that all conversations recorded by the HomePod will feature much higher encryption than that used by Amazon or Google.