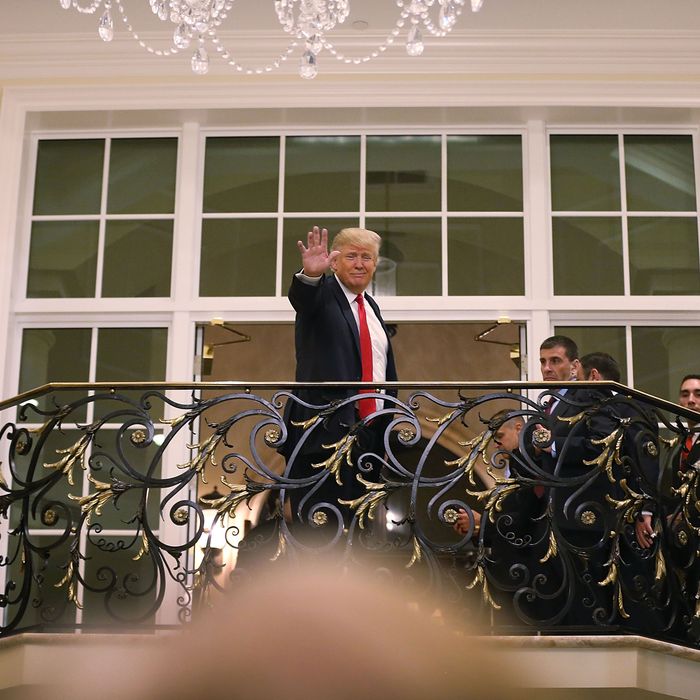 Trump on a balcony at Trump National Golf Club.
Photo: Joe Raedle/Getty Images
When Donald Trump wants people to think he's rich, he says his Trump National Golf Club in Palm Beach is worth $50 million. That's the value he assigned the 131-acre course on his 2016 and 2017 financial disclosures.
But when it comes time to pay property taxes, he says the course is worth much less. For the fifth consecutive year, Trump is suing the Palm Beach County property appraiser over the valuation of the course, which local officials have pegged at $19.7 million. Trump's legal challenge doesn't claim a specific value for the course, but it does suggest that the property tax bill should be around $300,000, not the $400,000 that the tax collector seeks.
That indicates that, for the purposes of paying taxes, Trump thinks the course is worth around $15 million.
None of Trump's previous attempts to challenge the club's valuation have succeeded, but the tactic of asserting lower property values at tax time is a favorite of Trump's. In 2016 CNN reported that he has fought property-tax bills on 25 of 26 properties in the U.S. Among them is a golf course in Westchester. At tax time in 2017, Trump argued that it was worth only $1.5 million despite listing its value as $50 million on financial disclosures.
The only property CNN reviewed that hasn't seen Trump dispute its value is his golf course in Bedminster, New Jersey. Apparently he's satisfied with the tax break he gets by keeping goats on the course and calling it farmland.