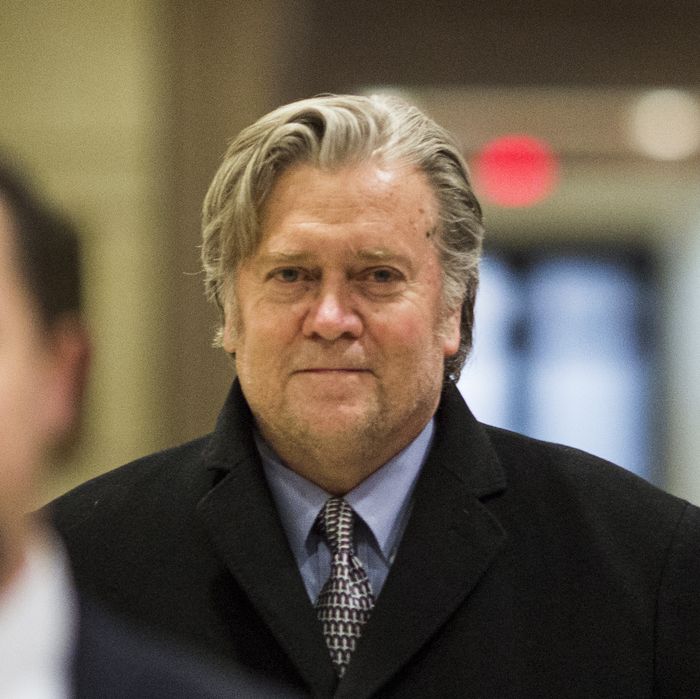 Steve Bannon leaves Capitol Hill after spending the day revealing almost nothing.
Photo: Zach Gibson/Bloomberg via Getty Images
Steve Bannon was at the center of some of the biggest controversies of President Trump's first year in office, and months after his departure he continued causing trouble, from supporting Alabama Senate candidate Roy Moore to calling Donald Trump Jr.'s meeting with Russians "treasonous" in the book Fire and Fury. Therefore, it should come as no surprise that Bannon's testimony before the House Intelligence Committee — or lack thereof — left lawmakers from both parties fuming and may set off a legal battle with the White House.
On Tuesday, Bannon spent ten hours in a closed-door interview with the House Intelligence Committee, which is investigating Russia's interference in the 2016 election. He was there voluntarily, but that changed when he refused to answer any questions about working in the White House, the Trump transition, or even his conversations with the president after his firing.
Representative Adam Schiff, the committee's ranking Democrat, said Bannon's attorney, William Burck, explained that the White House had instructed his client not to answer the committee's questions. In a rare moment of agreement, Democrats and Republicans on the committee then issued a subpoena, which they hoped would compel Bannon to testify.
"Only Steve Bannon could unite this committee," commented Representative Mike Quigley.
After Burck conferred with White House officials, Bannon "doubled down" on his refusal to answer the committee's questions, according to Schiff.
"This was effectively a gag order by the White House preventing this witness from answering almost any question concerning his time in the transition or the administration," Schiff said.
"The scope of this assertion of privilege, if that's what it is, is breathtaking. It goes well beyond anything we have seen in this investigation," Schiff continued. "If the White House is permitted to maintain that kind of gag rule on a witness, no congressional investigation could ever be effective. So this obviously can't stand."
Schiff wasn't the only committee member who found Bannon's legal justification appalling. Democratic Representative Jim Himes described it as a "very novel theory of executive privilege," on Anderson Cooper 360.
"I think this will probably keep the lawyers busy, but I certainly have never heard of an example where either executive privilege is claimed for a president-elect," Himes said. "I've never heard of executive privilege claimed for conversations between two people that don't include the president, which were precluded from being asked about today."
Republican representative Mike Conaway, who is leading the probe, said the White House never formally invoked executive privilege, and stressed that Bannon has no right to do so himself. Instead, Trump's former chief strategist claimed he could not answer questions because the White House might invoke executive privilege at a later date. Burck said in a statement, "Executive privilege belongs to the President of the United States. It's not Mr. Bannon's right to waive it."
This might have been "novel" to members of the House Intelligence Committee, but Trump administration officials have actually made this argument when testifying before other committees — though their claims were much less broad than Bannon's.
While testifying before the Senate Intelligence Committee in June, Director of the National Security Agency Mike Rogers, Director of National Intelligence Dan Coats, and Attorney General Jeff Sessions all declined to answer certain questions, saying Trump might someday want to exert Executive privilege.
"I am protecting the right of the president to assert it if he chooses, and there may be other privileges that apply,'' Sessions said. "At this point, I believe it's premature for me to deny the president a full and intelligent choice about executive privilege.''
On Tuesday, White House press secretary Sarah Sanders claimed the Trump administration wasn't concerned about what Bannon had to say, and was vague about whether he was directed not to answer questions.
"As with all congressional inquiries touching upon the White House, Congress must consult with the White House prior to obtaining confidential material," Sanders said. "We've been cooperating fully with these ongoing investigations and encourage the committees to work with us to find an appropriate accommodation in order to ensure Congress obtains information necessary to its legitimate interests."
Several members of the House Intelligence Committee said they weren't done with Bannon, and Himes suggested he might be held in contempt of Congress if he isn't more forthcoming. Conaway said the subpoena "stays in effect, and we're going to get answers."
That could have implications for other Trump associates expected to come before the panel this week, including former campaign manager Corey Lewandowski, senior White House aide Rick Dearborn, and possibly White House communications director Hope Hicks.
As for forcing answers out of Bannon, someone else might beat them to it. Special Counsel Robert Mueller issued a separate subpoena to Bannon on Tuesday, directing him to testify before a grand jury. A person familiar with the situation told the Post that Bannon can't assert Executive privilege in that scenario because Mueller is also an Executive branch official.
The Daily Beast reported that Bannon intends to be far more cooperative when he's questioned by the special counsel. "Mueller will hear everything Bannon has to say," said a source.