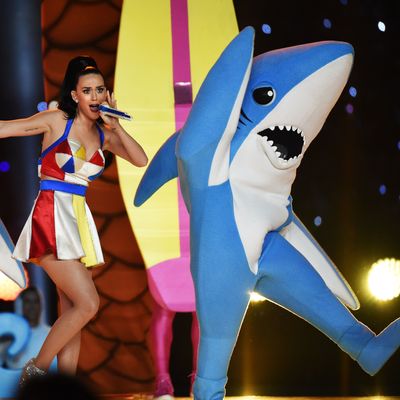 Left Shark (left) performs at the Super Bowl.
Photo: Timothy A. Clary/AFP/Getty Images
If you, like me, have had large portions of your brain turned to mush through excessive internet usage, then I don't need to remind you who Left Shark is. For the rest of you: Left Shark is the name given to a shark standing to the left of Katy Perry when she performed at the Super Bowl halftime show in 2015. The shark quickly went viral because he appeared to suck at dancing. "That's me," said millions of viewers.
But who is Left Shark, really? His identity has remained (mostly) a mystery until now, since the dancer, Bryan Gaw, has only obliquely referred to the viral incident. Ahead of Super Bowl LII, however, NPR caught up with the man behind the myth. He now works as a stylist in L.A., having left the backup-dancer trade about a year ago.
"There's a set choreography," Gaw told NPR. "There's also what's called free-style choreography, or you get to move around or play your character as a dancer." So he decided to play his uncool seven-foot shark as an underdog.
"You don't have to be perfect, nobody has to be perfect in life," he said. He didn't rehearse the actual steps, but he did apparently rehearse being goofy.
Left Shark was easily the most viral Super Bowl halftime moment of the 2010s, arguably eclipsed only by a certain "wardrobe malfunction" in 2004. Justin Timberlake returns this year, maybe he'll find a way to go viral without upsetting the FCC.