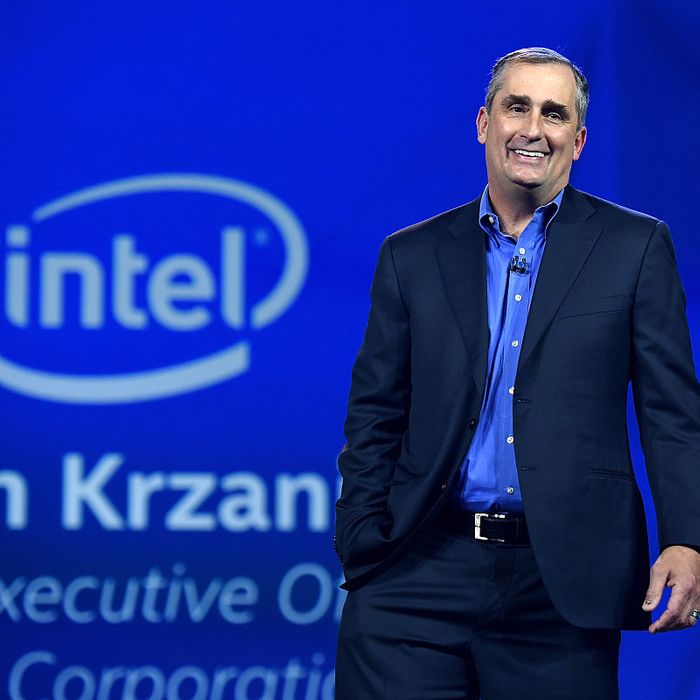 Intel CEO Brian Krzanich, now $24 million richer.
Photo: Ethan Miller/Getty Images
Intel, the world's second-largest manufacturer of semiconductors, is having a bad start to 2018. Security researchers, led by Google's Project Zero, disclosed that a major flaw in the system architecture of processors made by Intel, ARM, and AMD allows for an exploit called Spectre, which could enable malicious users to access sensitive data such as password or credit-card information that normally should be siloed between different applications.
In addition, there's an Intel-specific vulnerability known as Meltdown, which is more aggressive and easy to exploit, and which major OS and browser vendors are frantically rolling out patches for.
All of this is causing many to raise eyebrows at Intel CEO Brian Krzanich's decision in December to sell off his owned Intel stock and exercise his stock options to the tune of $24 million, leaving him holding the bare minimum of just 250,000 shares of Intel stock required by corporate bylaws.
The move was notable enough on its own for finance publication Motley Fool to flag it when it happened in mid-December, wondering why exactly Krzanich would sell everything except what was required. Analyst Ashraf Eassa wrote at the time that "the impression that I get is that Krzanich doesn't have a ton of faith in the potential for Intel stock to appreciate, perhaps driven by a lukewarm (or potentially even negative) view of the company's near- to medium-term business prospects."
Which may have been true! Intel (and other companies affected by these flaws) were all aware of the basic issues of Meltdown and Spectre for over half a year. According to Intel itself, it says that it was informed of the flaws in June 2017 by Google.
If execs selling off a huge chunk of stock right before a major security flaw is exposed is giving you a sense of déjà vu, there's a reason for that. Three Equifax execs sold $2 million worth of stock shortly before the company disclosed to the public that it had been hacked, exposing the private information of over 144 million Americans.
Of course, it's possible that Krzanich's sudden bearish attitude toward Intel wasn't related to Meltdown and Spectre. He sold his stocks for an average price of $44.55 in December, following a 12 percent surge in Intel's stock price from September through November that saw it go from the mid-30s to the mid-40s in price. Krzanich may have simply wanted to cash out while prices were high. But Intel's own CFO was targeting Intel's stock price hitting $60 per share by 2021, and Krzanich offered his own similarly bullish take in February of 2017. So one has to wonder: What changed Krzanich's mind?
Correction: We originally stated that three executives from Experian sold $2 million worth of stock shortly before security leaks were revealed to the public. The company in question was Equifax, not Experian.