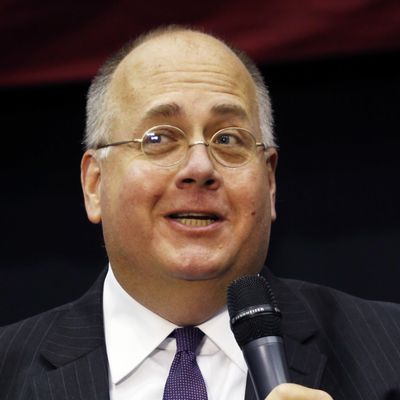 The twice-accused-of-sexual-harassment "faith-values guru to the Democratic Party" was probably peddling snake oil.
Photo: Rogelio V. Solis/AP/REX/Shutterstock
The reckoning over sexual misconduct in public life reached a destination many Democrats had long feared: Hillary Clinton's two presidential campaigns. But the misconduct in question, as it happens, did not involve her husband or anyone in his immediate circle. Instead, it is ensnaring her 2008 "faith adviser," who later headed up a Hillaryland auxiliary group in 2016 — a man with the B-movie name of Burns Strider. According to a report from the New York Times, Strider was disciplined (but not fired) by HRC's first presidential campaign over one sexual-harassment allegation, and then fired from Correct the Record in 2016 for another. The Times offers some details from the 2008 incident, but none about the more recent allegations.
The evidence about Strider's alleged misconduct (it sounds like he admitted the 2008 allegations, at least enough to accept punishment) will eventually sort itself out. But what I want to know is what kind of "advice" this man was offering, and whether it was worth the apparent collateral damage to his female subordinates and co-workers.
Burns Strider is famously a charter member of what progressive pastor Daniel Schultz dubbed the "religious-industrial complex," a distinctly 21st-century development whereby a set of ministers, writers, and consultants set themselves up as sherpas guiding the Democratic Party through the unfamiliar landscape of Christian Believers — or, more specifically, conservative Evangelical believers. Strider hit political gold early on in convincing Nancy Pelosi to set up a Faith Working Group in 2005 that encouraged "God talk" among House Democrats. The 2008 campaign was a watershed for the "religious-industrial complex," as Barack Obama submitted himself to questioning by conservative Evangelical megapastor Rick Warren and did reasonably well among people of faith (and, of course, among so many other elements of the electorate).
These advisers to the presumably godless Donkey Party took a lot of credit for the Democratic victory in 2008, and began, well, cashing in. With no one knowing about Burns Strider's 2008 campaign misconduct, he was in a position to Go Big, setting up a firm called the Eleison Group, which did "faith consulting for Democrats." Sarah Posner had this to say about Strider's "advice" in 2010:
Eleison's clients have tended to be conservative and anti-choice Democrats. Parker Griffith, the Alabama congressman who switched to the Republican Party, and Bobby Bright, another Alabaman who votes more Republican than Democratic, were Eleison clients. Both Bright and Griffith, as well as Mississippi's Travis Childers and North Carolina's Heath Shuler, also Eleison clients, voted for the Stupak amendment [an anti-abortion rider] but against the health care bill last November, and against the final bill in March. Perhaps the Democratic Party — understandably — hasn't detected all the benefits of Eleison's faith messaging?
It sure looks like Strider represented the South end of a North-bound dinosaur, urging Democrats to make the right noises (and compromises) to hang onto an ever-shrinking segment of conservative white voters. Aside from the diminishing returns — morally and politically — from such a strategy, it arguably sacrificed appeals to genuinely progressive people of faith who were either taken for granted or written off.
As a politically active and religiously observant Southerner by birth, I have to say that whatever he did or didn't do in the way of sexual misconduct in 2008 and 2016, Burns Striker seems to have been invested in a career-development practice that annoys me profoundly: trading on Southern cultural stereotypes to sucker the secular Yankee liberals into keeping him around as a sort of amulet and symbol. His tributes to the folk wisdom of his late father, long-time Mississippi sheriff "Big Daddy" Striker, are presumably heart-felt, but are just a bit lower on the gag-me scale than political consultant Catfish Saunders's "Southern populist" prescriptions for NASCAR sponsorship, huntin' and fishin' enthusiasm, and other elements of a "Bubba Strategy." Playing the fool for company is indeed a Southern tradition, but not one progressive Southerners should take much pride in.
I can only hope that Strider's latest notoriety doesn't make Democratic politicians allergic to "religious outreach." But they might want to draw on their own spiritual experiences, or if they don't have any, their own dealings with people of faith, instead of hiring consultants. You'd think the authentically Christian Hillary Clinton would have known that.