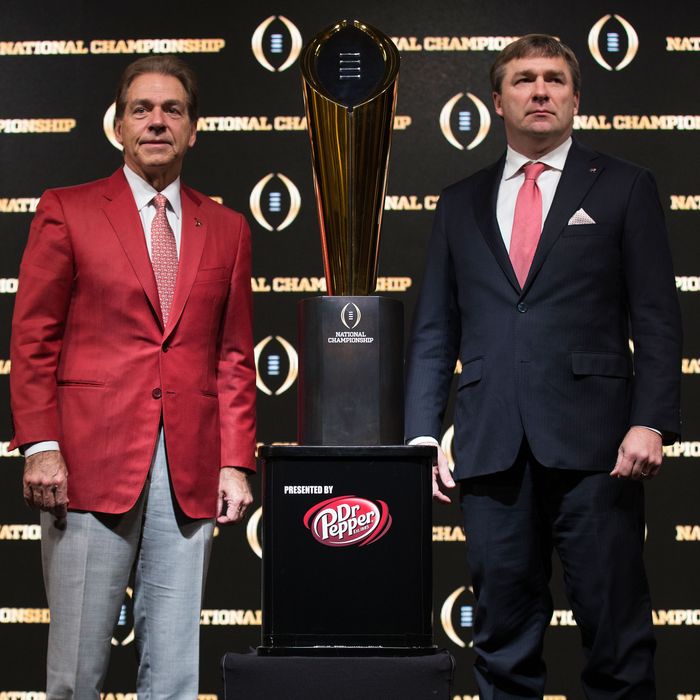 Coaches Nick Saban and Kirby Smart are battling each other and the distraction of bad weather and a visit from Donald Trump.
Photo: Mike Zarrilli/Getty Images
Here in Atlanta, fans of the semi-local University of Georgia Bulldogs and the nearby University of Alabama Crimson Tide are preparing for their regional civic religion's highest holiday, the College Football National Championship. It will be held tonight at 8 p.m. ET in the fancy new Mercedes-Benz Stadium, home of the Atlanta Falcons and a reported 1,264 beer taps.
Before availing themselves of beverages, however, most fans will have paid astronomical prices for tickets. Face-value tickets for the game begin at $475. At the moment, on StubHub, the cheapest nosebleed seat goes for $1,440 (on the Alabama side of the field; they are a bit higher on the Georgia side). After the two teams won their spots in this game a week ago, StubHub's site briefly crashed, and even bad seats were going for over two grand, far and away the highest recorded for a college-sports event.
For their pains, though, fans flying or driving into Atlanta for the game have additional horrors beyond their depleted checking accounts: a potential traffic nightmare caused by the completely unexpected confluence of two storms arriving from the northwest — icy weather hitting the Atlanta area midday and then Donald J. Trump dropping in from Nashville at some point before kickoff.
Anyone familiar with Atlanta knows that the locals panic, raiding liquor and grocery stores, closing schools and jamming highways, at the very thought of an ice storm. So many people going to the game or other festivities surrounding the game are waiting for temperatures to safely rise above freezing levels before sallying out. They may, however, avoid the Scylla of bad weather simply to collide with the Charybdis of presidential security, as streets close between the airport and downtown and all around the stadium area. Here's one local report:
Street closures to make room for events in downtown, as well as an influx of more than 100,000 fans, media, and support crews, are expected to cause the perfect storm when it comes to traffic. (Speaking of storms, a winter weather advisory pertaining to possible freezing rain has closed Atlanta Public Schools and many government offices today.)




Throw in President Trump's visit, requiring closed roads and enhanced security, and Atlanta has the recipe for a pretty horrific rush hour.
You have to wonder if Trump, who already made some people in Atlanta unhappy with disrespectful statements about the city's crime rates and infrastructure, would have been better advised to watch this game from afar. It's true that the same logistical problems to which Trump will contribute will affect anyone trying to pull off protests; the Atlanta NAACP has asked attendees to wave white towels as a sign of solidarity with the "snowflakes" that alt-right types regularly mock, but it's a bit late for that. Football fans can only hope that Trump can get a sufficient grip on his ego to keep a low profile, and not make some sort of Nixon-style appearance in the winning locker room or (shudder) award platform.
By tomorrow, Atlanta will have returned to its regular status as a city with really bad traffic jams and unpredictable weather — but, generally speaking, ice-less and Trump-less. Maybe if someone reminds the president that CNN is just a stone's throw from Mercedes-Benz Stadium, he'll leave at halftime and let both losers and winners go home safely and efficiently.