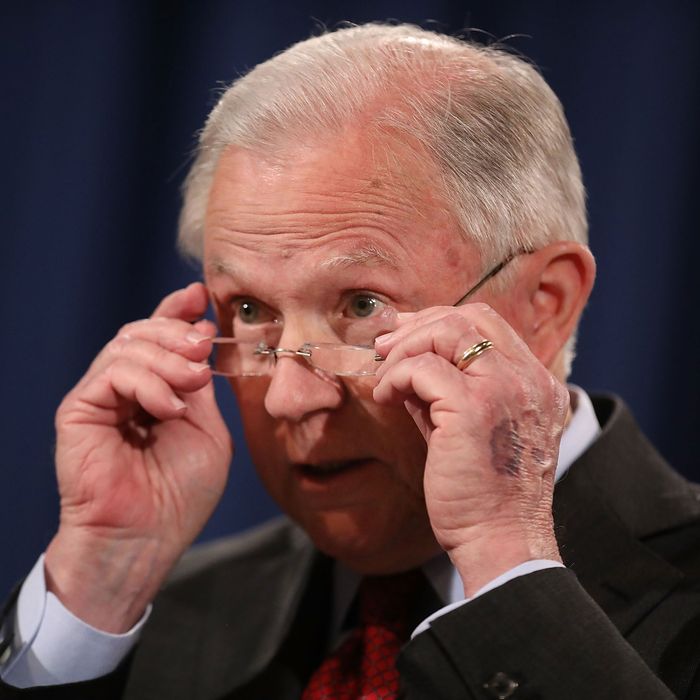 King of all racist cops…welcome to the resistance.
Photo: Chip Somodevilla/Getty Images
On Thursday, we learned that Attorney General Jeff Sessions tried to dig up dirt on James Comey as a means of sabotaging the credibility of the FBI's Russia investigation. That same day, House conservatives called on Sessions to resign for his mismanagement of the FBI — while congressional Democrats rallied to his defense.
The explanation for this odd state of affairs is simple: The easiest way for Trump to kill the Mueller investigation would be to appoint a new attorney general willing to kill it for him. Sessions, of course, recused himself from the Russia probe — a move that allowed his deputy Rod Rosenstein to appoint the special counsel. Rosenstein is no Trump crony, and has evinced zero interest in interfering with Robert Mueller's work. So long as Sessions remains at the top of the Justice Department's chain of command, Trump will need to fire Rosenstein, and then keep firing his way down the DOJ's org chart until he finds a career Justice employee willing to carry out his order.
Were Sessions to step down, however, Trump would merely need to find someone willing to quash the investigation (and lie to the Senate about his or her willingness to do so).
In an op-ed for the Washington Examiner Thursday, House Freedom Caucus leaders Mark Meadows and Jim Jordan called for Sessions's resignation on the grounds that he failed to prevent federal law-enforcement agents from leaking to the press. But the bulk of the column is devoted to making the ostensibly irrelevant — and transparently false — argument that "there is no evidence of any collusion between the Trump campaign and the Russians."
The op-ed doesn't explicitly argue that Sessions should resign because that's the most expedient way for Republicans to end an illegitimate investigation into their dear leader, but the lawmakers' intention is unmistakable.
This has left Democrats in the unenviable position of arguing that the racist authoritarian who has repeatedly misled Congress in sworn testimony — and, apparently, tried to sabotage his own FBI director on the president's behalf — must be allowed to continue running the Justice Department, for the sake of our democracy.
"I voted against Jeff Sessions and said he never should be there in the first place, given his record on civil rights, on immigration, on so many other issues," Chuck Schumer said on Capitol Hill Thursday. "My view now is very simple: Nothing, nothing should ever interfere with the Mueller investigation."
Meanwhile, EPA chief Scott Pruitt is reportedly excited by the prospect of (once again) moving up America's political ladder on the strength of his unscrupulousness.