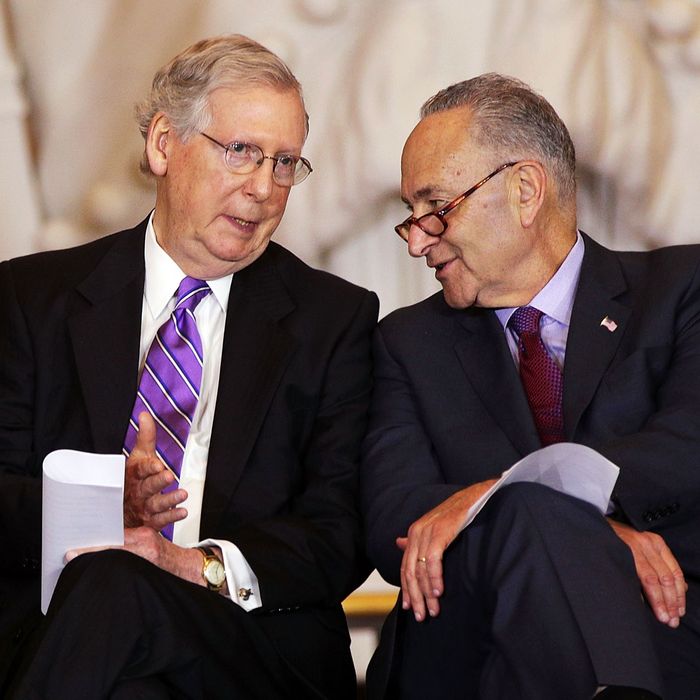 What could go wrong?
Photo: Alex Wong/Getty Images
Most weeks, New York Magazine writer-at-large Frank Rich speaks with contributor Alex Carp about the biggest stories in politics and culture. Today: the fallout from the government shutdown, the possibility that Robert Mueller will question the president, and the politics of the Oscars.
The government shutdown lasted for just under three days, producing CHIP funding, a promise from Mitch McConnell to allow a vote on immigration and DACA, and a resolution reopening the government for three more weeks. What did the shutdown change for each party, and will they make enough progress to avoid the same impasse in February?
Saturday Night Live perfectly encapsulated the state of Trump-era political culture last weekend in a sketch casting Jessica Chastain as the host of a game show titled What Even Matters Anymore? Such is Donald Trump's skill for upending any national narrative every day or so with some new outrage that no individual incident has any lasting weight or matters long. Of course there was a ton of apocalyptic 24/7 cable coverage of the shutdown and its potential political impact on the November midterms, but, sure enough, Trump's nuclear-button madness, shitholes, and Stormy Daniels started slipping into our national memory hole as a consequence. Soon the shutdown will be forgotten as well, not least because it didn't change anything — for either political party, for the Dreamers, for the broad public, or for the 2018 elections.
We are back to Go, and no one is collecting $200. McConnell didn't actually promise anything on immigration, merely an "intention" to take the matter up in some vaguely evenhanded way. In the unlikely event any immigration bill gets through the Senate, it will surely die in the House anyway. The fast-retreating Chuck Schumer, having been widely panned by his party's base for taking on a battle he couldn't win (or didn't have the will to win), will not make that political mistake again; he has already rescinded the offer to fund a border wall, the big gimme of his ill-fated last-ditch negotiation with Trump. Meanwhile, we must endure endless pieces about Susan Collins, her African "talking stick," and the moderate Gang of 25 that ostensibly saved the day. (Who really saved the day is whoever convinced Trump to shut up and curb his disruptive tweets while negotiations for the Democrats' surrender played out over the weekend.) Washington loves the fantasy of bipartisan cooperation, and it will love this one right up until it all falls apart in three weeks, thereby ending the West Virginia senator Joe Manchin's 15 minutes of camera-hogging fame as the soul of legislative compromise. Never mind that none of this accomplished anything.
According to the most recent Washington Post–ABC News poll, some 86 percent of Americans don't want the Dreamers thrown out of the country. The date of real interest from a political point of view is not the next shutdown deadline of February 8 but March 5, the last day to renew expiring DACA permits. Already there is a daily stream of immigration deportations percolating just beneath the surface of the daily news torrent.
If 690,000 young immigrants are ripped out of their schools, homes, communities, and workplaces, it is not going to be pretty. Does anyone remember the widespread American outrage when the young boy Elián González was forcibly returned to his father's custody, and then Cuba, by federal agents in 2000? Multiply that incident by the thousands, and maybe we might have a story that matters, at least for a full week.
After interviewing James Comey and Jeff Sessions, the Mueller investigation reportedly seeks to question Donald Trump — an interview that Roger Stone likens to a "suicide mission." Do you agree?
Stone is right. Trump is incapable of telling the truth on any subject — he even lied about the rainfall on his Inauguration Day. Even if he listens to his lawyers and tries to be on his best behavior, he will still lie and incriminate himself on the big topics being investigated by Mueller. Already the White House is hedging about his willingness (if any) to be interviewed. I think he's no more likely to voluntarily appear before Mueller than he is to release his tax returns.
That standoff will be preceded by plenty of other drama. Clearly panic is setting in about Mueller's pursuit of his obstruction-of-justice inquiry. The news that not only Sessions but the CIA chief Mike Pompeo (among other eyewitnesses to the firings of Comey and Michael Flynn) have been interviewed is not good for the White House.
As always when threatened with legal jeopardy, Trump's major move is to attack the rule of law and its institutions. That's why he besmirched the "Mexican heritage" of the U.S. District Judge Gonzalo Curiel during the campaign. So now Trump, Republicans in Congress, and his right-wing press cohort are stepping up their efforts to make the case that the FBI is hopelessly corrupt and engaged in a conspiracy to usurp his presidency. Where this will lead is anyone's guess; it's the first time a president has opened fire on the FBI as an institution.
Adding to this effort is Sessions, who lied to Congress about his Russian contacts and, perhaps facing legal battles of his own, is highly motivated to shut down Mueller's investigation from the inside — as evidenced by the Washington Post report that he wanted to pressure the new FBI director, Chris Wray, to purge top agency officials on the grounds that those jobs should be held by Trump loyalists. One way or another a constitutional showdown will arrive before the Mueller investigation concludes its business, with or without the firing of Mueller himself.
The nominees have been announced for the first Oscars of the post-Weinstein era. How will that play out at the awards?
The big win for the Oscars, many seem to feel, is that James Franco was not nominated for The Disaster Artist, thereby removing the awards-night story line of how he and/or the broadcast would deal with what the Los Angeles Times has characterized as multiple accusations of "inappropriate or sexually exploitative behavior." What remains unknown is how the Oscars will handle Casey Affleck's role as Best Actress presenter given his sexual-harassment settlements. That promises greater drama than the announcement of Best Picture.
That said, the focus on what Hollywood celebrities will or will not say about politics during an awards ceremony, or how they may or may not dress in protest mode for the red carpet, is becoming tiresome. We overdosed on that at the Golden Globes. If anyone has something smart or fresh or impassioned to say, say it. Otherwise, it's all so much dutiful white noise that has no effect on the many serious injustices, whether involving gender or race, that blight the industry.
In the same vein, it might be worthwhile to wean ourselves away from the current Oscars-season obsession of judging films by whether they are politically relevant to this highly charged moment in our history. In my view, Get Out is brilliant, but not every film taking on race deserves extra points for doing so. It would require considerable stretching to say that two of the other better movies of the year, Paul Thomas Anderson's Phantom Thread and Greta Gerwig's Lady Bird, score any political points whatsoever. Maybe Wonder Woman was stiffed on its merits — or, more specifically, for what Oscar voters, hardly known for their impeccable taste, consider its merits — rather than as a snub of women filmmakers. In a culture where so little matters, the Oscars, at least, have the luxury of having no obligation to.