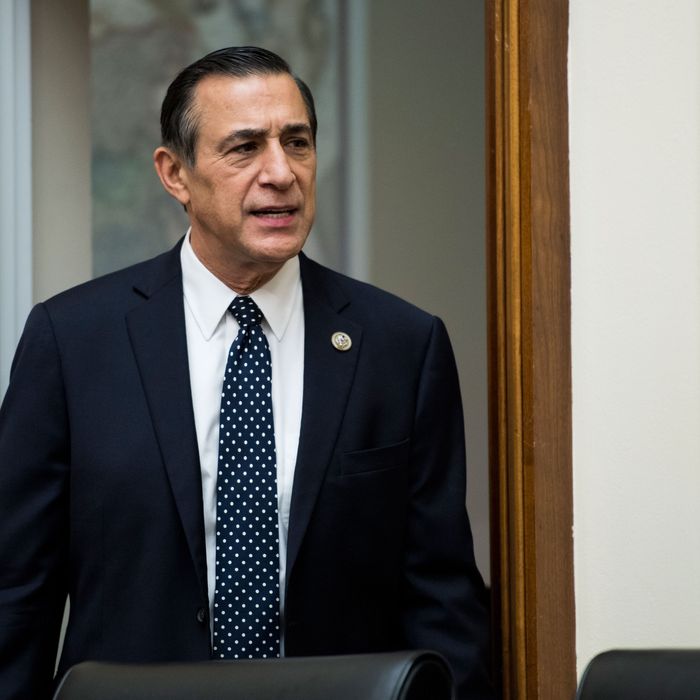 Darrell Issa will step aside to spend more time with his pseudo-scandals.
Photo: Bill Clark/CQ-Roll Call,Inc.
Republicans are fast becoming the retirement party. Two days after Southern California representative Ed Royce became the 29th House Republican to give up on reelection, his Orange County colleague Darrell Issa became the 30th.
Issa was arguably the most vulnerable GOP incumbent. In 2016, Hillary Clinton won his affluent, suburban district by eight percentage points — while Issa beat out his Democratic challenger by a mere 1,621 votes. And the congressman wasn't just exceptionally vulnerable — he was also exceptionally hated by the highly mobilized progressive base. As chairman of the House Oversight Committee, Issa played a leading role in the GOP's crusades against the Obama administration's "Fast and Furious" program, Hillary Clinton's alleged treachery in Benghazi, and the IRS's (fictional) discrimination against conservative nonprofits. Liberal billionaire Tom Steyer has pledged $30 million to the Democratic cause in 2018 — and had planned to spend a disproportionate share of that sum on evicting Issa from Capitol Hill. Countless progressives had advised the congressman to seek retirement over Twitter.
Nevertheless, incumbency is a powerful advantage. Over the last decade, incumbents have run roughly seven points ahead of non-incumbents from the same party in similar districts, according to the New York Times' Nate Cohn. And thus, most election forecasters saw California's 49th District as a toss-up — or even, a "lean Republican" race — so long as Issa was still in the game. Now, Democrats are in prime position to take the seat.
Royce's retirement Monday was an even bigger boon for Team Blue. The House Foreign Relations chair had $3.5 million worth of campaign cash already in the bank, and won reelection in 2016 by 14 points — even as Clinton topped Trump in his district by eight.
That said, these retirements do not eliminate the worst-case scenario for Democrats in these districts — and could actually make that scenario more likely.
All of California's races have "jungle" primaries, trans-partisan primary elections where the top-two vote-getters, regardless of party, advance to the general election. The Democrats' promising 2018 prospects have attracted an abundance of liberal candidates to these Southern California races. In Issa's district, the party already has four well-funded challengers: Sara Jacobs, a former Obama administration official who boasts the endorsement of EMILY's List; Paul Kerr, a real-estate investor with a talent for raking in campaign cash; Doug Applegate, a veteran and attorney who narrowly lost to Issa in 2016; and Mike Levin, a lawyer.
If Republican voters can consolidate behind two GOP candidates — while Democratic voters spread their ballots across four or five or six — Orange County progressives could show up at the ballot box this November to find that they have no Democratic House nominee to vote for.
The GOP appears to be fantasizing about such a development.
"In the 49th District, Democrats are locked in what is fast becoming one of the bloodiest primaries in America," Steve Stivers, chairman of the House GOP's campaign arm, told Politico. "While Democrats fight with each other, Republicans will focus on fighting Democrats — and that's how we plan to win."
This scenario is highly improbable, but to the extent that Issa and Royce bowing out incentivizes more Democrats to run, their retirements will marginally increase the chances of such a nightmare.
Regardless, all in all, these retirements significantly increase Democrats' chances of ripping the Speaker's gavel from Paul Ryan's cold, lifelike hands.
The number of House Republicans who've announced retirement plans is now double that of outgoing Democrats — and higher than the number of retirements from either party in any recent midterm.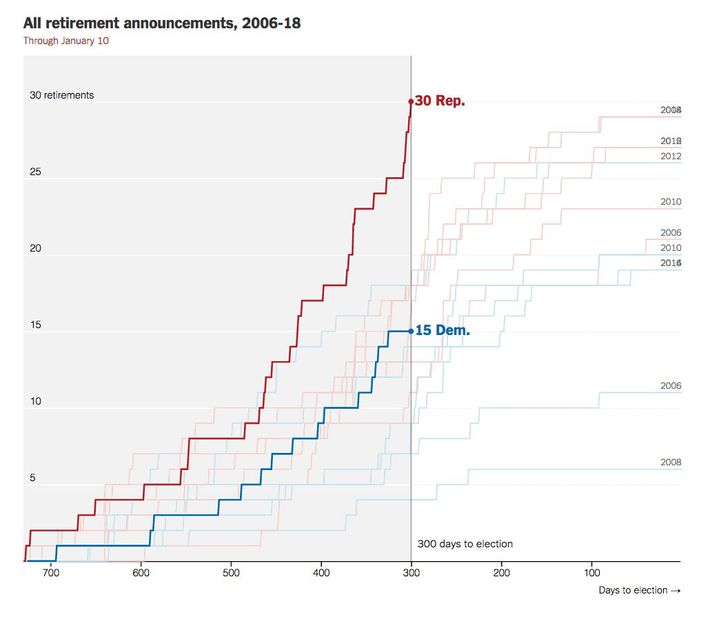 That said, as Nate Cohn notes, when one looks exclusively at retirements in competitive House districts (that is, districts that lean fewer than ten points toward either party in presidential elections), the parties are nearly at parity.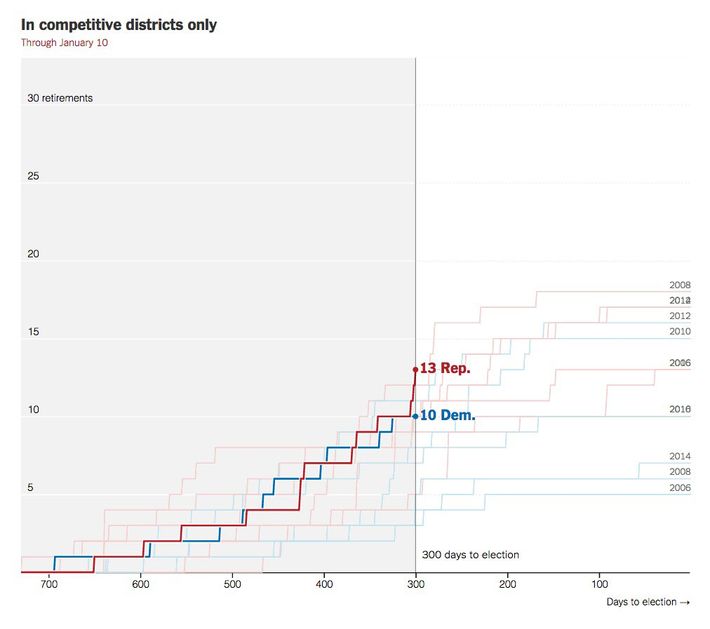 But Republicans have lost some especially high-value incumbents.  Washington's Dave Reichert and New Jersey's Frank LoBiondo both routinely won landslide reelection bids, even as their districts voted Democratic at the presidential level.
And given the Democrats' double-digit lead in the generic congressional ballot, there's every reason to expect that more Republican incumbents will head for the exits between now and November.