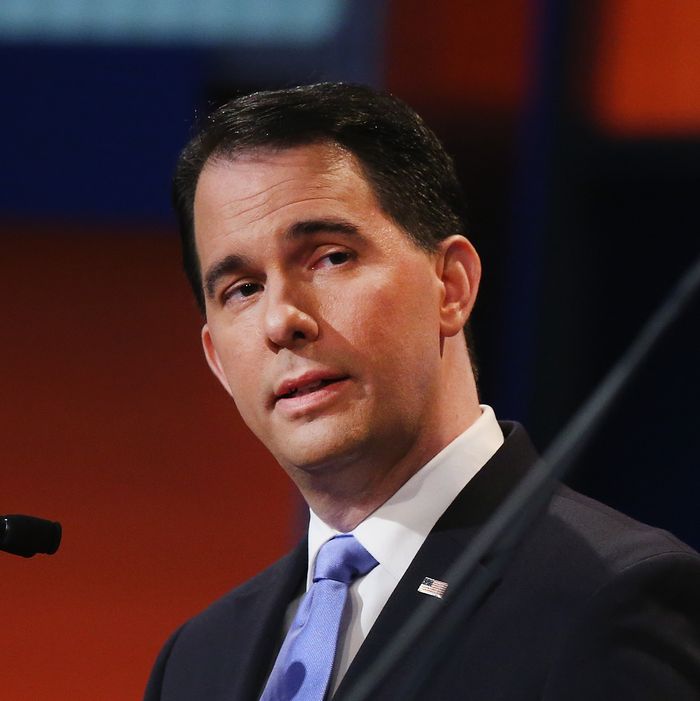 Maybe Scott Walker played this all wrong.
Photo: Scott Olson/Getty Images
Thanks to predictions of a Democratic wave in 2018, a record number of House Republicans have announced they're retiring, and some likely candidates have opted not to run. The year's first contests, a handful of statehouse special elections held on Tuesday, seemed to confirm that they made the right call.
The biggest news is an upset in Wisconsin's 10th Senate District, where Democrat Patty Schachtner, a medical examiner, beat Republican Adam Jarchow, a member of the State Assembly, by nine points.
The rural district's voting history did not suggest an easy win for Democrats. For the last 17 years, the seat was held by Republican state senator Sheila Harsdorf, who stepped down in November to serve as Governor Scott Walker's agriculture secretary. In the 2016 election, Harsdorf won by 26 points and Donald Trump won by 17 points; Romney easily took the district in 2012, though Wisconsin went to Obama.
Both sides poured large sums of money into the race: Americans for Prosperity spent at least $50,000 on ads for Jarchow, and together Greater Wisconsin and the National Democratic Redistricting Committee spent around $40,000 on Schachtner.
When asked whether she thought resistance to President Trump helped her win, Schachtner dodged the question.
"I'm just worried about western Wisconsin right now," she said. "Right now, in western Wisconsin, Wisconsin values is what keeps us going."
All of Tuesday's results were encouraging for Democrats, though they only managed to flip Wisconsin's 10th Senate District. The Washington Post reports:
In other Tuesday elections, Democrat Dennis Degenhardt won 43 percent of the vote in Wisconsin's 58th Assembly District; in 2016, Hillary Clinton won just 28 percent of the vote there, and no Democrat contested the seat. In Iowa's 6th House District, Democrat Rita DeJong won 44 percent of the vote; in 2016, the party's nominee won just 35 percent. In South Carolina's 99th House District, Democrat Cindy Boatwright lost with 43 percent of the vote; the party had not run a candidate for the seat in this decade.
As Decision Desk HQ's Aaron Booth pointed out, Democrats made huge gains across the board:
Since they tend to have low turnout, special elections aren't necessarily indicative of wider electoral trends. But Tuesday's results caught the attention of at least one prominent Republican who's up for reelection in 2018.