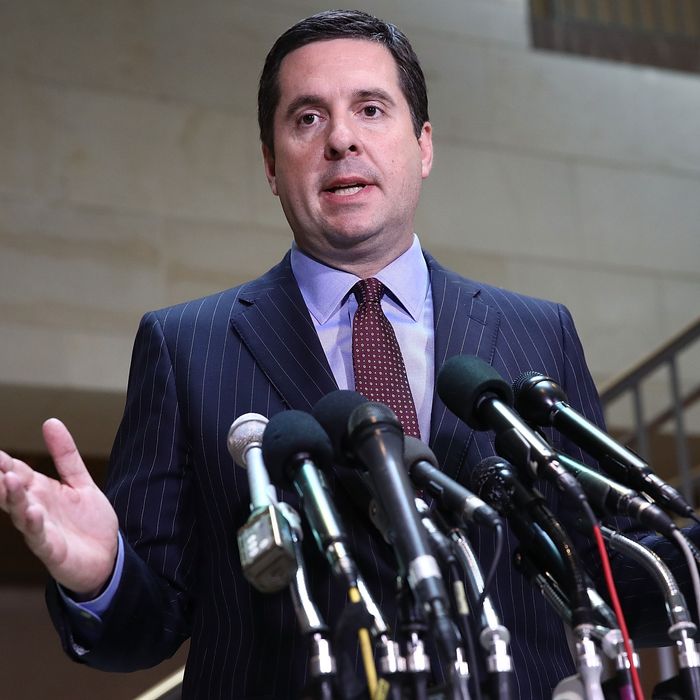 Nunes strikes again.
Photo: Win McNamee/Getty Images
Devin Nunes, the House Intelligence Committee chairman, never really recused himself from his committee's investigation into Russia's role in the 2016 election. In the early months of the Trump administration, he left no doubt that he was carrying water for the White House — holding clandestine briefings there, freelancing press conferences, and telling Sean Hannity that he was bound by "duty and obligation" to vindicate Donald Trump's wildest fever dreams about the surveillance state. "I'm in charge. I was always in charge," Nunes told Fox News last month after he was cleared by a House ethics panel of accusations that he mishandled classified information.
In charge he was. All along, Nunes kept signing subpoenas, haggling with Trump's own Justice Department officials over documents related to Fusion GPS and the infamous Christopher Steele dossier, and spearheading a parallel investigation into the Uranium One deal — each a quasi-scandal that, to Trump loyalists and those who consume conservative infotainment, is far graver than a hostile foreign power attempting to infiltrate a campaign to prop up its candidate of choice.
Of a piece with those distractions is Nunes's latest, a congressional campaign to make public a four-page memorandum, written by his own staff, that is said to outline how the federal government abuses its secret surveillance powers. The effort is not aimed at protecting the civil liberties of innocent, everyday Americans — more on that later — but exposing a lawless conspiracy, launched from the deepest recesses of the surveillance state, to undermine the Trump campaign and the future president of the United States. House Republicans who have seen Nunes's memo don't agree on how to characterize it, but in broad strokes the document appears to make the case that the Russia probe was tainted from the start because the legal process by which it began was perverted by deception and discredited allegations.
Republicans on the hopelessly partisan House Intelligence Committee voted to make the report available to anyone in the House wishing to see it, all in an effort to undermine the FBI and its handling of the Russia investigation — and maybe Special Counsel Robert Mueller himself. Democrats on the committee, blindsided by Nunes's move, released a joint statement berating the memo as a "misleading set of talking points" — in part because it's based on highly classified source materials that may never see the light of day and that many in Congress haven't even read.
So, to summarize, here's what we know up to this point about this latest madness: (a) There is an undisclosed four-page memorandum, (b) written by Nunes's staff, (c) which was made available in a party-line vote to anyone in the House, (d) but remains unreleased to the public at large, (e) and for which no one but Nunes and a handful of House Intelligence members and staffers have seen the evidence in support of it.
The New York Times' Charlie Savage reported that the heart of the memo's grievances is a secret warrant federal authorities obtained to monitor the activities of Trump campaign adviser Carter Page in the lead-up to the 2016 election. According to Nunes's memo, the FBI, in seeking the warrant, all but misled the Foreign Intelligence Surveillance Court by withholding that the supporting evidence for the warrant came from Republicans' favorite whipping boy, Steele — the former British spy contracted by research firm Fusion GPS (which in turn was contracted by the Democratic Party) to investigate Trump's dalliances with Russia. According to Savage's reporting, those who sought the warrant didn't disclose that Steele was getting paid by Democratic interests, but merely referred to him in court documents as a trusted FBI source who had already done good work for the bureau in an earlier case.
And that's why we're here. House Republicans, especially those predisposed to exonerate Trump of anything Russia-related, have used every superlative in the book to describe the explosive memo. Iowa's Steve King said it was "worse than Watergate." Freshman Florida congressman Matt Gaetz, who has already called for the firing of Mueller, is of the mind that "there are people who will go to jail" over the contents of the memo. Mark Meadows of North Carolina said in an impassioned floor speech last week that he was "shocked to read" the contents of the memo. "I would think that it would never happen in a country that loves freedom," he lamented, as he joined calls for the memo's release.
Over the weekend, Gaetz told Fox News' Jeanine Pirro — a Trump favorite who has earlier called for a "cleansing" at the Justice Department and the FBI — that disclosure of the classified House memo "will shock the conscience of the country":
The right-wing-propaganda complex immediately went to work — aided, hilariously, by an army of Russian bots that made sure the hashtag #ReleaseTheMemo remained a trending topic on social media. Before long, Donald Trump Jr. became a leading advocate for the memo's release, and WikiLeaks soon after jumped in on the action, promising up to $1 million in cryptocurrency to whoever had the courage to leak the document. On Tuesday — almost predictably — Alex Jones announced on Twitter that he had come into possession of a copy of the Nunes memo. But, also predictably, it turned out that all he had was a court order that has been publicly available for several months.
Steele's specter is really the only reason Nunes's latest move is playing so well in conservative circles, which are likely to scream even louder if a set of talking points conveniently handpicked by Nunes sees the light of day. Any mention of Steele's work or his dossier sends the Infowars set into a blinding rage — no matter how much of it may have already been independently corroborated by law enforcement or intelligence services. The dossier's more salacious parts may remain unverified, but by now there should be no doubt that the FBI suspected there were links between Russia and the Trump campaign several months before Steele shared his investigative work with U.S. authorities.
House Republicans apparently remain intent on releasing the memo, as well as "potentially some of the underlying intelligence" supporting its conclusions, according to CNN. Meanwhile, the Intercept's Glenn Greenwald, who is no Trump-Russia true believer, has laid out an interesting challenge for Republicans — pointing out that if they are not bluffing, and there really is something objectively important and verifiable in the memo, they have four easy options for making it public. So far, they have not seized on any of them.
The real danger of a partisan, selectively assembled memo lies in the distorted picture it paints of how the FBI conducted its investigation of the Trump campaign. Secret surveillance warrants, for all their weaknesses, generally don't just rely on a single piece of information; as the Times reported, the warrant on Carter Page "is said to have drawn on a variety of materials." There's no indication Nunes is committed to releasing all of the pertinent information behind the warrant, and releasing just the bits and pieces he likes would only tell a part of the story — the one he wants the public to believe. The potential for disinformation explains why the FBI, which almost never comments on political controversies, has asked to see the memo to implement corrective measures if needed. They've only gotten crickets. "The FBI has requested to receive a copy of the memo in order to evaluate the information and take appropriate steps if necessary. To date, the request has been declined," an FBI spokesman told the Daily Beast.
Perhaps the most telling sign that this manufactured outrage cycle is meaningless is that it exploded just as Congress gave the FBI sweeping new powers to conduct its surveillance operations. And Trump signed this expansion of the deep state he so distrusts just as his Republican allies were decrying its abuses in a carefully orchestrated media blitz. As national security journalist Marcy Wheeler has observed, when the House voted on these expanded surveillance powers a week earlier, Nunes, Gaetz, and King were among the bill's biggest cheerleaders. Do they really expect anyone to believe that they care about government abuse of civil liberties, when the bulk of the surveillance they just authorized doesn't even require a warrant?