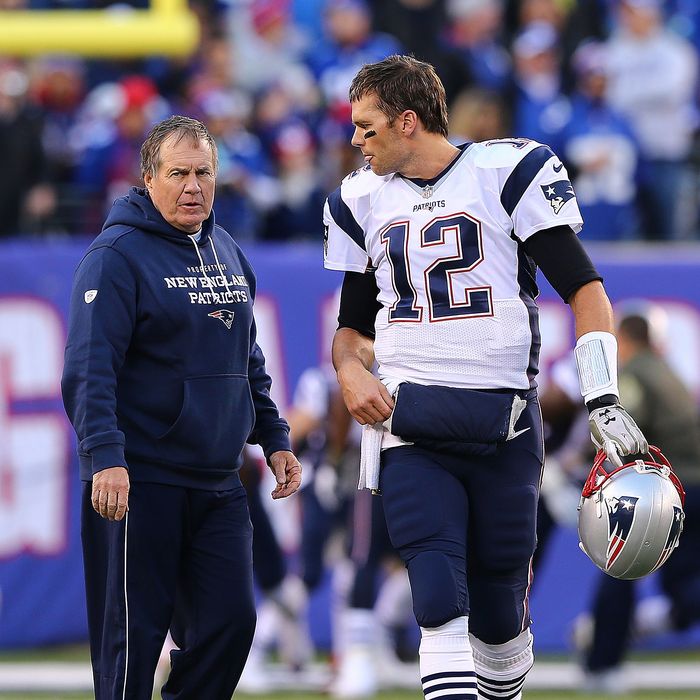 Trouble in paradise?
Photo: Elsa/Getty Images
The NFL playoffs begin this weekend, and once again the New England Patriots have the week off. After posting a 13-3 record and winning the AFC East, the most successful NFL franchise of the past two decades has a first round playoff bye for a record eighth consecutive year.
In New England, these types of small victories have become commonplace in the era of Bill Belichick and Tom Brady. Since coming together in 2000, the scowling head coach and grinning quarterback have brought five Super Bowl titles to Foxboro. But as the team did what it always does in 2017, beating down opponents and giving rival fans new reasons to hate them, a rift that would seem to call the future of the franchise into question began to develop between the quarterback and the coach, according to new report in ESPN.
Blame for the problems can be spread around. For starters, there's Brady and his personal trainer Alex Guerrero, a questionable character described by Boston Magazine as "a glorified snake-oil salesman." Several years ago, Belichick gave Guerrero access to team facilities, which led other players to seek treatment from the guy who once hawked a drink that he said could cure concussions.
In the past year, Seth Wickersham reports, players began to feel pressure to have Guerrero address their injuries rather than team doctors. No one wanted to run afoul of Brady, who's not just a client of Guerrero's, but a business partner. In September, Belichick put a stop to all of that, cutting off Guerrero's access to the team facilities.
It's unclear if this move rankled Brady, but Wickersham reports that the 17-year veteran has grown increasingly tired of Belichick's rule by iron fist. "Belichick's negativity and cynicism have gotten old, Brady has told other Patriots players and staff," Wickersham writes. "He feels he has accomplished enough that he shouldn't have to endure so much grief." Brady, after yet another MVP campaign, wasn't ever even named Patriot of the Week in 2017, something he reportedly complained about to staff.
The drama in Foxboro isn't confined the the locker room. Owner Bob Kraft also became involved in October when the team surprisingly traded backup quarterback Jimmy Garoppolo to the San Francisco 49ers. Kraft apparently pressured Belichick into the making the move after Brady requested it. At 40 years old, Brady is at the stage in his career when most quarterbacks are ready to shut it down. But as he's said before, he plans to keep playing into his mid-40s — and he wasn't fond of the competition breathing down his neck.
As expected, the Patriots have denied the drama described in the article. In a three-way statement, Belichick, Brady, and Kraft said ESPN's story is full of "theories that are unsubstantiated, highly exaggerated or flat out inaccurate."
"It is unfortunate that there is even a need for us to respond to these fallacies. As our actions have shown, we stand united," the statement says. After so many years of success though, there are fans and front offices in 29 other NFL cities hoping that changes after this year.