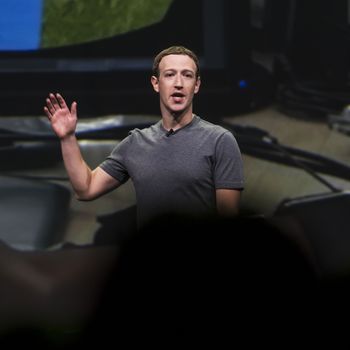 Mark Zuckerberg.
Photo: David Paul Morris/Bloomberg via Getty Images
Hold on to your Amazon Echo Shows, there's a new smart device in town. Or, at least, there will probably be soon. Facebook, according to a report on Tuesday from Cheddar, is reportedly getting into the smart-home game with a $499 device called Portal. "Facebook intends to pitch Portal as a way for families and friends to stay connected through video chatting and other social features," Cheddar reports. The device is expected to ship in late 2018.
From Cheddar:
Like Amazon's screen-equipped Echo Show, Facebook's Portal is designed to work indoors and be controlled through voice commands. According to people familiar with Facebook's plans, Portal will be equipped with a wide-angle lens that is capable of recognizing individual faces and associating them with their Facebook accounts.
The device will also reportedly work with services like Netflix and Spotify. Now, it'll just be a matter of time, price — Amazon's Echo Show retails for $230, so Facebook's device would be a significantly pricier choice — and, oh, right, seeing if people actually want to let Facebook into their homes to watch them. Given that Facebook founding president Sean Parker recently gave an interview in which he said Facebook was built to exploit human vulnerability and "consume as much of your time and conscious attention as possible," Facebook's chances seem good. Plus, Mark Zuckerberg reportedly told employees that he doesn't care if the Portal doesn't make Facebook any money. It's supposed to "change user behavior and encourage phone-like usage among owners." Love to have a tech giant change human behavior!
Also, and this is apropos of absolutely nothing, now seems like a good time to mention that Mark Zuckerberg — a man now trying to sell you cameras for your home — apparently tapes over his own laptop's camera for privacy.